I would love to sell sunscreen
I really would.
Renee,
I'm interested to know if you sell natural, safe sunscreen products. If you do, what is the SPF range? Is it water repellent for sports? What is the cost?
Thank you,
Claude
Here's the deal:  while there are some great sunscreen products on the market, I know my readers well. They prefer something where they fully understand the ingredients going into the product, and they'd like to know that they could make it themselves if they wanted to. Most importantly, they want to know that it works at least as effectively as store-bought sunscreen. In a nutshell, they want to know it's a safe sunscreen.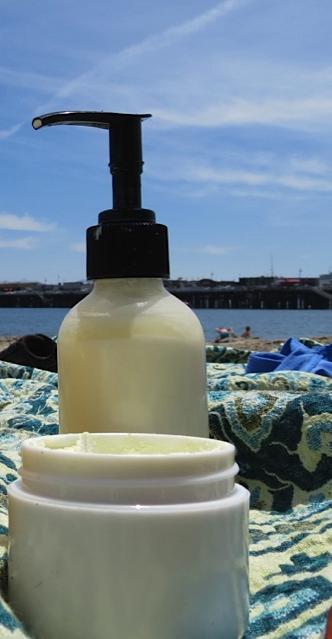 If I sold safe sunscreen, what would the ingredient list look like?
Zinc oxide. The Environmental Working Group included zinc oxide as one of the safest ingredients to use in a sunscreen, citing that it gives "excellent UVA protection", very little chance of an allergic reaction, no hormone disruption, and hardly any skin penetration.

Coconut oil. It certainly doesn't have to be coconut oil, but it's what I've used in my family's sunscreen and I'm sticking to it. It's a good oil to blend the zinc oxide with, and because it's liquefied in warmer weather, it will create a nice creamy texture to your sunscreen.

Shea butter. This butter is so nourishing to the skin. Your sunscreen will not only act as a protection from UVA but it will act as a lotion to condition your skin. (It's optional... if you don't want the extra lotion-y feel, it can be left out.)

Beeswax. Your sunscreen needs something to emulsify the ingredients into one cream, and that's the job of the beeswax. Beeswax is also a thickener, keeping it thick enough to hold together in your beach bag without turning it into liquid form.
That's it!
No need for oxybenzone, or octinoxate, or the common sunscreen preservative methylisothiazolinone (named "allergen of the year" by the American Contact Dermatitis Society).
So if I create the recipe that my customers approve of, and follow the SPF requirements set by the FDA, I've got the perfect product, right?
Not so fast, Surfer.
(Don't give up hope, though. You can use our Simply Soothing Rash Cream in a pinch because the ingredients are all there... it's on YOU to make sure you don't burn.)
I dove into the research with the hope of having something ready for you to buy (this was back in 2015).
Here's what I found about safe sunscreen regulations:
Prior to 2012, FDA regulations for sunscreens dealt almost exclusively with protection against sunburn, which is primarily caused by ultraviolet B (UVB) radiation from the sun. Now the FDA regulates for warnings about skin cancer and early skin aging as well, which is contributed by ultraviolet A (UVA) radiation. When you read a sunscreen label offering "broad spectrum" sun protection, that product has been tested for both UVB and UVA.
If I wanted to sell a sunscreen online, here's what I would need to do:
I would need to send in a batch of sunscreen to be tested at an FDA approved test facility. I checked around and found that these cost several thousand dollars. This shouldn't stop the savvy business person if there's a good return on investment, but…

Testing one batch does not mean automatic approval. I would have to send in batch after batch, and pay for each one, until one was approved. Ouch. That would require some serious leg work first, which can be done… but what about the hiccups like…

Blending zinc oxide into your batch of sunscreen does not mean that the zinc oxide is equally blended throughout the cream. This is something to consider when you make it at home. Although you may have a fairly consistent blend, your SPF could vary (albeit slightly) within the same batch of sunscreen. There's a risk with each batch. Bwaaah… back to the drawing board, or investing in a very powerful blender.

Zinc oxide is zinc oxide, which does leave a bit of whiteness on the skin. The more zinc that is blended in, the higher the SPF, but who wants to look like a ghost? While I might be fine with an SPF of 15, someone else might insist on a 50, which brings on an even greater amount of FDA regulation. It comes down to what my customers want…

Finally, there's the whole waterproof claim. Even if I could prove the sunscreen is waterproof, the FDA does not allow me to say that it's waterproof. I can't call it sunblock, either. I could call it water resistant, if I'm willing to test the length of time the sunscreen is water resistant, and pay for that test, too.
And so, while I used to make sunscreen for our family, now I just grab our Simply Soothing Rash Stick and keep that handy.  If you do make your own, remember about the blending aspect of it (#3 above). When you make sunscreen, you are making it at your own risk. As always, be aware of the dangers of overextended exposure to the sun and cover when necessary… with clothing, or sunscreen.
A Safe Sunscreen Company I Recommend:
While I use our Simply Soothing as a back-up, if I know I'll be at the beach for an extended period of time (especially in the beginning of the summer), I pack my 3rd Rock Sunscreen. I love the smell, it acts somewhat like a lotion, and it's extremely effective. Find it here (affiliate link) and/or read my experience with it here.
An Extensive Review of Safe Sunscreens by Katie from Kitchen Stewardship
If you're really into sunscreen but don't have time to dig in and find out the pros and cons of all the various companies, I highly recommend following Katie of Kitchen Stewardship. She's sacrificed years of deep research, experimentation, and her family's skin to bring you her top choices. Read those here: https://www.kitchenstewardship.com/natural-mineral-sunscreen-reviews/
Renee Harris, owner
P.S. Are you interested in even more research? Here are some links to read up on:
Regulatory Explainer: Understanding the Regulation of New Sunscreen Ingredients - Published March 2014. Explains which sunscreen ingredients are approved now, and why there's a hold-up of having other sunscreen ingredients approved.
Labeling and Effectiveness Testing: Sunscreen Drug Products for Over-The-Counter Human Use – Published December 2012. Everything you want to know about labeling and testing, straight from the FDA.
The Trouble With Sunscreen Chemicals – Published 2015. The Environmental Working Group's research on sunscreen ingredients and their safety levels.


More Help for Sun-Parched Skin
Simply Soothing Rash Cream Testimonial
Jane W:
This rash cream is wonderful!!!! It works on all of my family's skin rashes, irritations, itches - we use it for everything. And it works!!
Great Stuff!!
I have multiple skin issues, from very thin skin, to dermatitis, to unknown rashes and highly allergic to any kind of insect bite or sting. I literally need to take Benadryl to ease the itching. Having said that, I tried the Simply Smoothing Rash Cream and it is excellent. It really does calm the itching and fully moisturizes my skin. Highly recommend.
Clears up diaper rash fast
I was using your junior product on baby's bum until the soothing rash lotion arrived. Your regular lotion helped so much my little one hardly gets a rash. So now if there's the slightest pink I put soothing rash on, and it clears it up quick.
When I first got your bee silk lotion years ago, I was making my own sunscreen by crudely mixing zinc oxide and the simplest form of liquid lotion I could find. It did the job, not pretty though. And after using hard lotion, I just couldn't buy another liquid lotion with all those extra ingredients. I'm not sure why it took me so long to connect the dots. But I love your soothing rash lotion. It goes on so easily and absorbs quickly, I think this will be great for sunscreen when we need it on our face. Can't wait to try it out.
Thank you Renee for another awesome product.
Great products!
Soothing is right! It reaches small areas, feels good and helps heal rashes
New diaper rash cream
I've never tried a diaper rash cream with zinc oxide in it, because all those I saw had other odd ingredients in them. This one was a great exception :) The ingredients are clean and the cream has been great for my son's diaper rash. So glad we tried this :)
Nice product- not the miracle I was hoping for
I got this because my son has had some really dry patches of skin through the winter. Reading the reviews, I was hoping this would be a miracle solution for us. He's been using it daily for 3 weeks now without much change to his condition. I feel good about the ingredients, but this wasn't the miracle I was hoping for.
Absolutely Surprised and Thrilled! Simply Soothing Rash Cream!
I am a senior citizen, a grandma, and I've had 5 children via C-sections. I am round in shape and thus I have overlapping skin folds, which get worse as I age. The skin underneath the overlapping skin has been red, irritated and very sore, like a severe sunburn. I have even had yeast in these skin folds. I had been using an antifungal powder for the past few years trying to address the skin irritation, but I had to apply the powder several times a day and it didn't even fully prevent the irritation and pain.
My dermatologist told me to stop the powder and to use a cream that contained zinc oxide.
I've been using the Simply Soothing Rash Cream for several weeks now and from the first application it has provided relief from the burning, soreness and irritation. Plus I don't need to reapply it during the day, just once works great. I have not had any soreness or irritation in my skin folds since I starting using it. The stick form makes it very easy to apply.
I'm sold! No more powder! I'm using Simply Soothing Rash Cream daily. My dermatologist was very pleased.
Even my snarky TEENS like this!!
I purchased a Simply Soothing stick for myself and immediately loved the feel on my winter skin, especially under my eyes, which is especially sensitive from the dry air. One of my teenage daughters was complaining about dryness and I offered her my stick to try. She is PICKY and completely resistant to any of my 'natural' or 'DIY' style treatments, but she agreed (I suspect it was only so she could tell me it didn't work LOL) Lo, and behold - the next morning she asked if she could borrow the stick for school!!! As soon as she was gone, I ordered a stick for each kid for Valentine's Day (I like to give them something 'loving' <3 )
They all love them!! My oldest (in college) mentioned that it's become her nighttime moisturizer - easy to apply and totally absorbs overnight leaving soft, soothed skin by morning. Thank you for such an awesome product!! I will be ordering another round for all of us!
Sweet Dreams with Simple Soothing Rash Cream
Since the Pandemic and the introduction of harsher and harsher chemicals in the workplace, it can be difficult to ride the wave to balance sanitation with safety. With sanitation compliance, I was experiencing warning signals on my skin with dryness, itchiness, redness and discomfort. At night, I had an especially hard time gearing down to sleep with my hands and forearms itching all the way past my elbows. Since I couldn't sleep, I got up looking through the cabinets to find something to help. That's when I saw a travel-size Simply Soothing Rash Cream that I had bought for First Aid summer misadventures. I applied a generous amount to my hands and arms like evening gloves. It immediately stopped the burning and itching like magic! I slept like a baby. Although Renee originally made it for diaper rash, I'm glad that she took "diaper" off the label! ;D I used it for several consecutive nights to heal the micro-abrasions on my skin due to harsh sanitation chemicals. Ahhhh, Sweet Dreams…
Healing cream
I mainly use on the baby's bottom if an issue arises but my husband uses it for big guy chaffing, nothing else has ever helped like the simply soothing has