Regular price
$55.00 USD
Sale price
$43.00 USD
Unit price
per
Sale
Sold out
Your skin gets an extra beating in the winter, not just from dryness, but from the abuse it takes when you're sick: nose-wiping, eye-rubbing, and constant hand-washing.
MadeOn can help. While you rest up and nourish your insides, we'll provide the products that can take care of your skin, while also helping you to breath again.
Here's what's included in our Winter Wellness Package:
20% savings compared to buying each product individually!
Full-Size Beesilk Lotion Bar (2 oz): keep it by your nightstand so you can easily apply lotion to your dry, overwashed hands, and to the damaged, over-rubbed skin under your nose. Tip: for an extra nourishing experience, cut off a bit of the bar, warm to the point of melting, and then apply where your skin needs it the most. Ingredients: beeswax, shea butter, coconut oil
Simply Soothing Rash Cream (1 oz): if the skin under your nose has become red and rashy from the frequent nose-blowing, apply Simply Soothing to take care of the redness. Apply anywhere that your skin has been overworked to the point of redness. Ingredients:coconut oil, beeswax, zinc oxide 
BeeCool Stick (.5 oz): Compare this to Vicks Vapor Rub for its function: clear up stuffy sinuses. We added menthol and essential oils to help with congestion and breathing. Apply a very small amount below the nose or rub on the neck and exposed chest for help with cough and cold. (Use sparingly with children - may be too intense).  Ingredients: beeswax, shea butter, coconut oil, menthol, essential oils of tea tree and peppermint 
Peppermint Lip Balm (.15 oz): Your lips have suffered enough. Bring relief and end the chapped feeling and dryness while allowing the peppermint to help clear up your stuffy nose. Ingredients: beeswax, shea butter, coconut oil, peppermint essential oil  
Shipping & Returns

Free shipping on orders over $75.

100% money back guarantee. Contact us if you need a refund.

hello@hardlotion.com
Share
View full details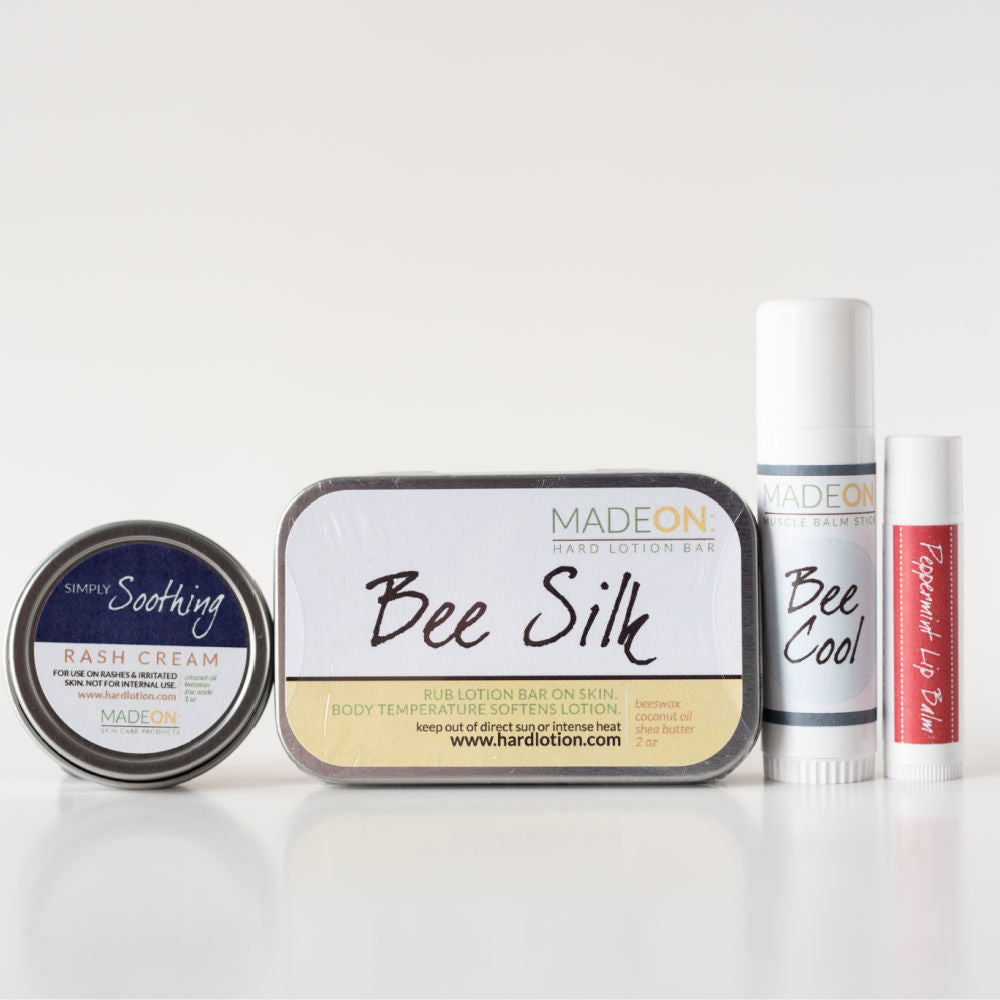 Perfect for beautiful winter skin
All the products included are the perfect combination for keeping your skin, lips and nails looking healthy during the winter months. I live in Wisconsin where temperatures vary a lot in winter and the dry heated air can leave my skin cracked and bleeding. The tubes and tins make this combo easy to use wherever I am, keeping my skin looking moisturized and smooth. The peppermint lip balm is my favorite!
Winter wellness
My son washes his hands impulsively. His poor hands are in constant need of moisture in the winter. I applied the lotion bar before bed. I love how he sits while I rub his sore hands. It targets the chapped skin and softens it immediately.
Winter Wellness Package
Great products at a discount! Used the rash cream with zinc oxide as a sunscreen on top of the lip balm.
Great Products
What a wonderful gift, Grandma loves it, especially the Bee Silk. She says it is very convenient and looks like it will last a long time.
Winter wellness package (Great)
I ordered the Winter wellness package and it really helps my hands from cracking from the Winter temperature. It came very quickly and I was impressed . Will be ordering again very soon. TY
Lots of good things!
I always love the peppermint lip balm because it is my favorite! I rubbed some of the lotion on my hands around the knuckles because the skin is so dry, and it helped just using it once!
Great set for colds!
Our family had colds recently and these products were so helpful! The rash cream worked great for around our noses where the skin gets dry and hurts from constant nose blowing. The BeeCool stick worked great in place of Vick's.
Winter Skin is banished with this!
This is the very best to get you through a dry rough cold winter! Something for every part that needs pampering. Use it before things start getting rough and you will be ahead of the game and may not ever get the rough chapped lips & hands etc. But if you get all Chapped and cracked this is exactly what you must have to get you to whole and smooth again!
Wonderful for winter!
This is a great kit for battling dry skin, aches and pains and redness or rashes. I feel comfortable giving it to my kids since I know it is natural and made with the best ingredients. Thanks for quality products - and great value!