How to avoid taking steroids for eczema
It's unsettling to have a 20 minute consultation with a doctor to then be handed a prescription for a topical steroid cream.
Will this fix the problem permanently?
Does this mean I won't suffer from side effects?
Does this tell me why I have eczema in the first place?
No, No and No.
And yet, your skin hurts, itches, and bleeds. Feeling hopeless, most people would take that prescription slip and reluctantly run to the pharmacy, even though it's not really what you want to do for yourself or your family members.
Let me share with you some things to try before you resort to the steroid cream. First, here's the problem...
One customer told us "I have eczema on my legs. Occasionally it gets to the point that I'm scratching it in my sleep causing bleeding, scabs and hard patches that I cannot imagine healing."
Another customer: "My daughter deals with eczema on her hands. She's little, so steroids aren't ideal and the eczema flares right back up within 48 hours of stopping the steroid."
If you've ever felt like the skin condition you're dealing with (or worse yet, your child or baby is dealing with) is like these situations, to the point of losing hope, hang on and let me share with you some information that will help you find some relief.
Here's what you can do instead:
Look at the ingredients in your skin care. Make sure all of your skin care products are free of fragrance, including your soap and shampoo. Scent additives can aggravate the skin and make the problem worse. Make sure your laundry detergent is also free of added chemical scent.

Make sure whatever you use topically to try to give relief, has as few ingredients as possible to get the job done.

Use natural oils and butters instead with your skin care.
Those three actions alone will bring you closer to healing your skin.
Dermatologists will tell you to moisturize, moisturize, moisturize.
However, you need longer-lasting relief than a water-based lotion.
The secret here is this: Your skin care doesn't need water, and therefore, no preservatives are needed either.
Preservatives such as Methylchloroisothiazolinone (MCI) and Methylisothiazolinone (MIT/MI) irritate the skin, as can parabens and surfactants.
We created our lotion bar Beesilk (and the softer version Beesilk Jr) to relieve the pain, itching and flaking associated with eczema and other skin conditions. We stick to the principles of using natural oils and butters, avoiding water based lotion and not adding scent.
Beesilk is completely natural and has only 3 natural ingredients. Customers have experienced fantastic results.
The customer I quoted in the beginning of this email continued on with this:
"The Au Chocolat lotion bar and goat milk soap are the first things in a long time to give me hope of actually having my eczema go away for good."
She's not alone.
Judith left this review about the Beesilk lotion bar:
"After trying several other products for eczema on my arm, and hand where my fingers meet my palm, I tried Bee Silk. It works and my skin has healed nicely. I like the convenience of the small container which fits in my purse. Thank you!"
Carol wrote this:
"I've always had eczema and the lotion I use stings when applying. Recently, my 10 year old, developed eczema across the knuckles of both hands. It was bright, bright red, dry, and itched. The lotion I used was working to relieve it, but stung. I tried the Bee Silk on him. It felt great, he said. After he used it at bedtime for two nights the redness was GONE!!! We are still using it to prevent the areas from getting worse."
Feeling hopeful?  Ready for skin that's smooth, soft, and pain-free? Remember, start fixing your skin with products that don't contain water, fragrance, or additives that can keep your skin from relief and healing.
These products may provide relief for the symptoms of eczema and other related skin conditions. Please reach out to us by email if you have any questions at all. We understand this distressing condition and we want to help as much as we can.
Laura
"Received the pocket sized tin for Christmas and I've used it on my hands and elbows about 4 times now and I cannot believe the immediate difference!
My elbow feels completely smooth for a LONG period of time (instead of what feels like a minute with traditional lotion) and I cannot wait to keep using this to see how much better it gets.
I've already ordered more for my side of the family and have a wish list built up!"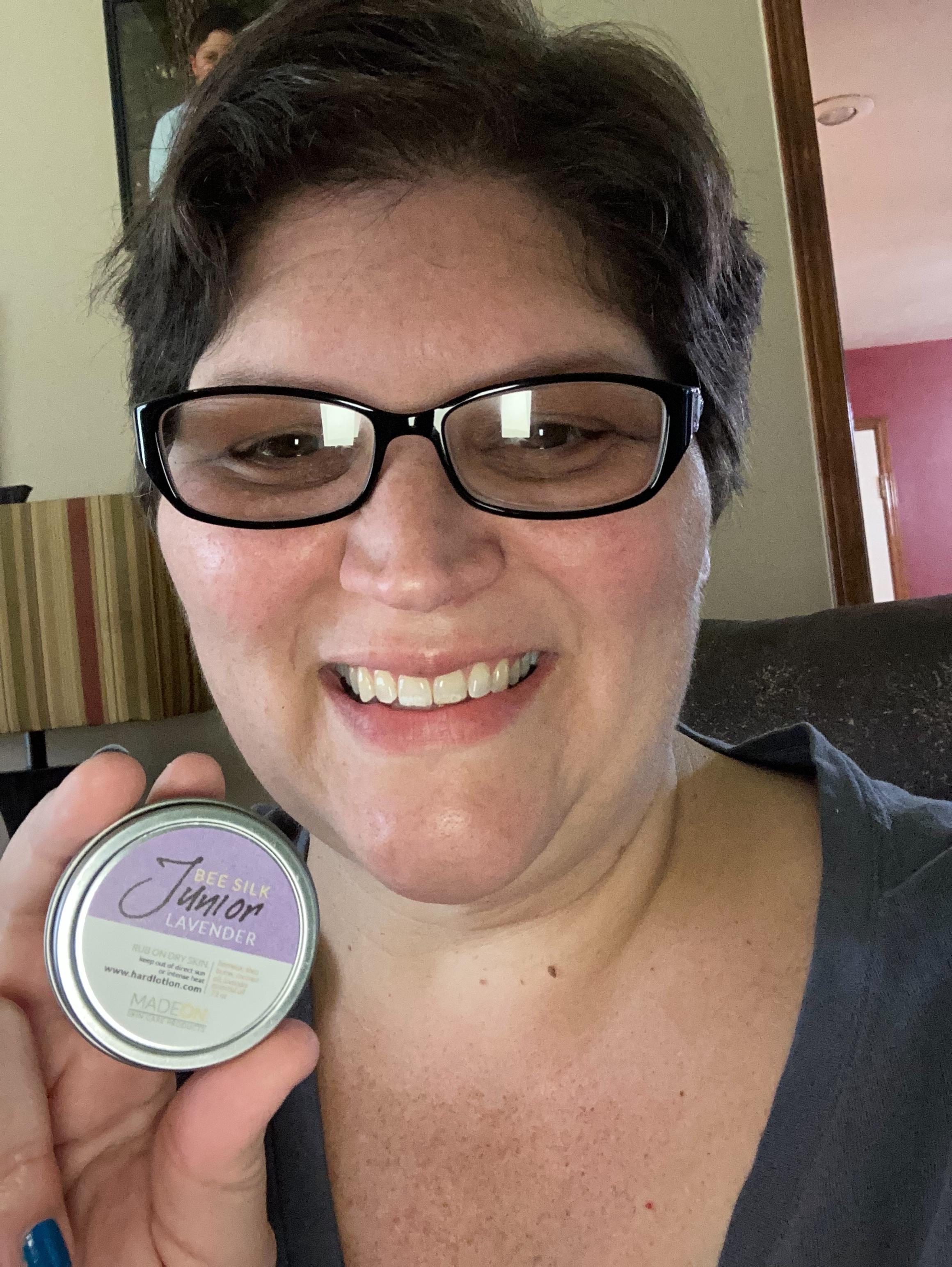 Layna
"Thank you so much for doing the [Beesilk] Junior in lavender!! It's amazing! My granddaughter has eczema and loves the junior but I absolutely love that now we have a great smell too!! Thanks so much!!!"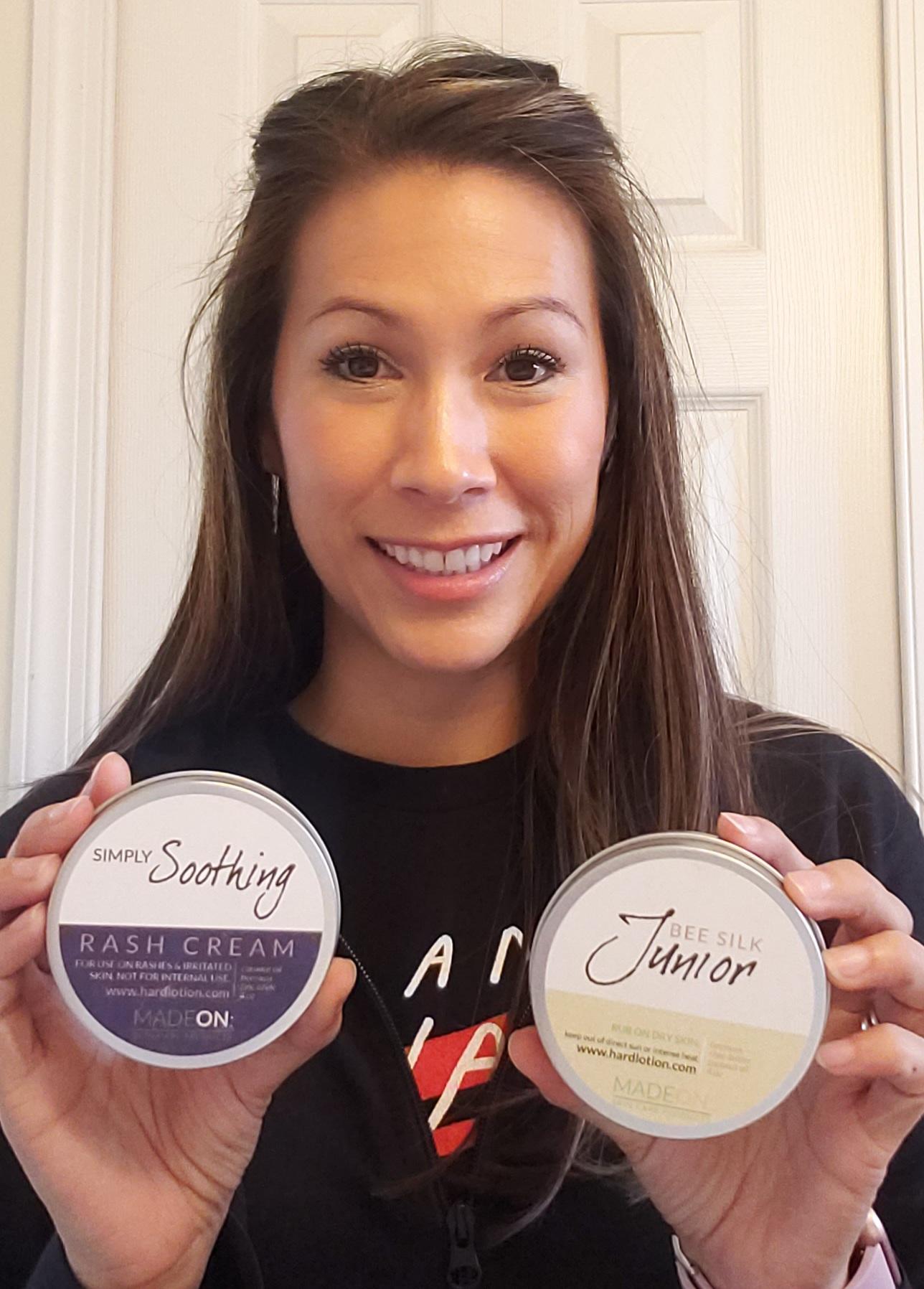 Emily P
"I absolutely love the texture and feel of the Bee Silk Junior! Kind of a hard, waxy-like butter, but melts easily when rubbed onto skin. I use the back of my fingernail to push up however much I need. Makes my hands and feet so super soft, and it provides a nice beeswax layer that keeps my hands soft even after a couple washings. I also love the smell! It must be the beeswax with a very subtle honey-like scent. Mmm! I'm always looking for a good, healthy balm or body butter to use, and this one, with only 3 ingredients, is just right for what I need."
Beesilk junior
Love it, I keep it in my tote at work, as my hands dry out with working on materials.
Awesome product
My hands and heels have never felt so soft and no longer dry / cracked. I bought one for my daughter-in-law so I am anxious for her to try, too. I would recommend this product.
My first crack free winter in 8 years
I mean it when I say I really never write reviews. But this product has been transformative for me. After 8 long winters of extremely painful bleeding cracks, usually two or three at different stages of healing on each hand, I have had an almost crack free winter this year since I started using Bee Silk. The few cracks I have gotten have been instantly soothed by the product and have healed quickly. I used to wear nitrile gloves most of the day to protect my cracked fingertips from painful contact with everything. Now I am free of that and I'm so grateful! Thank you!!
Works amazing!
I bought this for all my kiddos and a few extra for gifts. This stuff is amazing and has healed our dry, cracked, winter skin. Plus this is the perfect size for traveling with!
Bee lotion bar
I do like the bar, even though it's a little pricey. It does leave your skin feeling very soft and smooth once the lotion soaks in.
Simple and smooth.
I'm always looking for a clean fragrance free hand lotion and this one is great. It's very convenient to just grab the bar and roll around in your hands. I keep it in my kitchen for after cleaning and washing dishes. Absorbs right in with no greedy feeling.
Wonderful Product
I just received my order a few days ago and so far I love this product. It is so easy to use and doesn't feel sticky..just smooth. I cut off a chunk of bar to have in my purse instead of a small hand cream that can leak all over and doesn't last on my hands. So far so good….
Beesilk
Beesilk is great for keeping my fingers from splitting as soon as it turns cold! It is also great for my feet. Love it❤️
Beesilk junior
Great for keeping in my purse or in the car for my dry hands.
great product
Love this product! Love the somewhat softer lotion, as I have mature skin.
Great lotion
This is easier to use than the Beesilk hard lotion. It does rub in easy on my heels and around my fingernails.
Lavender
I have ordered the BeeSilk Junior before but this was my first time purchasing it with the lavender scent. I love it! The scent is so relaxing, I use it on my neck and temples before bed.
Beesilk Junior
I have buying products from MadeOn for many years now and never tried Junior (I always buy Bee Silk) - I love Junior especially now in the Midwest winter, it just soaks into my hands and takes the dry away! I highly recommend Beesilk Junior.
Great size
I keep this one in my nightstand drawer to grab at night for last minute moisture…
My night-time hand ritual.
I use the Beesilk Jr. on my hands nearly every night so soothe and soften my hands overnight. I like the "softer" formula because it rubs in so easily. Sometimes I'll add a drop of two of my favorite EO as well.
Bedside Must Have
I'm barefoot most of the day and wear Birkenstocks out and about. My kids have been making fun of my dry heals. Keep this on my nightstand and use it on my heals and hands before bed. What a difference!!
Great for aging skin
I am now 70 years old and I have problems with my skin ripping easily on my arms. Just my arms, which makes no sense. The BEESILK JUNIOR easily spreads on my skin without the ripping that happens when I use the standard BEESILK. Don't get me wrong, I use the standard BEESILK on other parts of my body, but on my arms, the BEESILK JUNIOR works wonderful with no problems.