How to Deal with Coarse Hair
Joy is a long-customer who has successfully managed to move toward all-natural products with her skin and her hair, but it didn't come easy. People may want to give up too soon before hitting on the steps that work for their hair type.
But if you stick with it and try various ideas until you find your solution, you'll have healthy hair AND you'll find that you don't have to spend a lot of money on expensive products. Read on!
Joy's hair: thick, coarse, curly, and difficult to manage
Joy was able to switch to our Shampoo Bar to clean her hair, and Second Life Hair Butter to style it, but she still dealt with naturally coarse hair that she wanted to make smooth and soft and easy to brush before styling.
I'll tell you about the one kitchen ingredient that solved this, but first, let's go through her stages:
Shampoo Bar: because her hair is thick, she says it does take some effort to work it into her hair and thoroughly rinse out but she definitely prefers the shampoo bar over the commercial shampoos that leave her hair feeling heavy after use. She washes her hair twice a week.

Apple Cider Vinegar: (This it it! The secret kitchen ingredient!) She uses about 1.5 cups a day that she fingers through her hair in the shower and then rinses out. And then it's time to brush (watch her video below).

Second Life Hair Butter: She styles her hair with the hair butter.
Here's a description of her before and after:
Before, she would have to use a death grip to brush out her coarse, tangled hair and it was PAINFUL. It had to be done in sections and would take at least 5 minutes to brush through.
Now she's able to brush her hair through with very little tug. She enjoys the "glide" of brushing her hair and it's so fast.
Her hair is soft and smooth.
Watch the short video to see the process: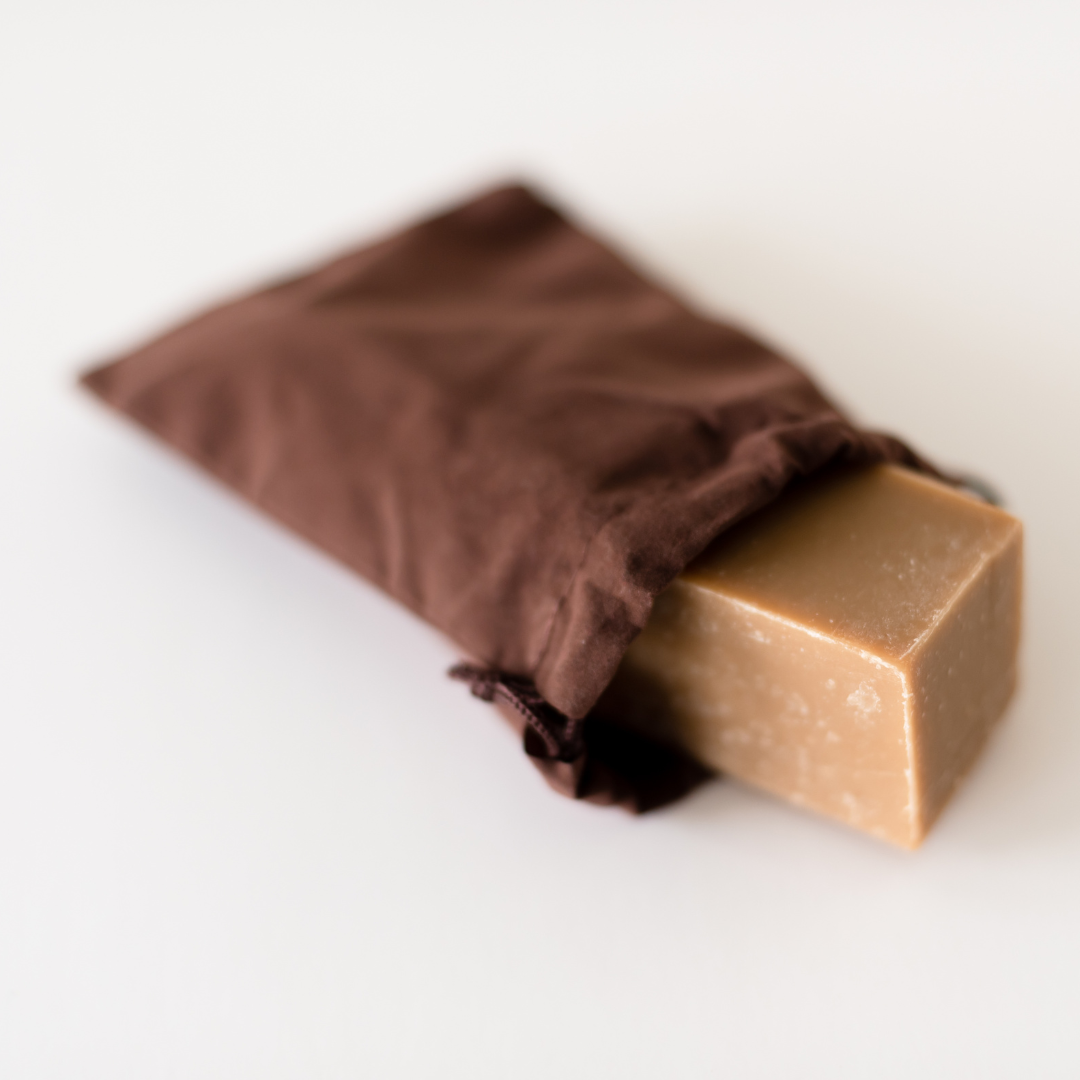 Shampoo Bar
Is it like soap?
Soap bars have skin loving ingredients and shampoo bars have hair loving ingredients. Shampoo bars have a higher percent of oils that produce more lather. Some soap bars have additives that I would not want in my hair. When I go on vacation, I only bring one shampoo bar and use it for both hair and body.
Shampoo Bars are made from vegetable and fruit oils, along with herbs, flower, seeds and fruits to provide care for your hair.
Ingredients: water, olive oil, palm kernel oil, coconut oil, sodium hydroxide, canola oil, castor oil, cocoa butter, shea butter, rhassoul clay, essential oils of lavender, cedarwood, sweet orange and palmarosa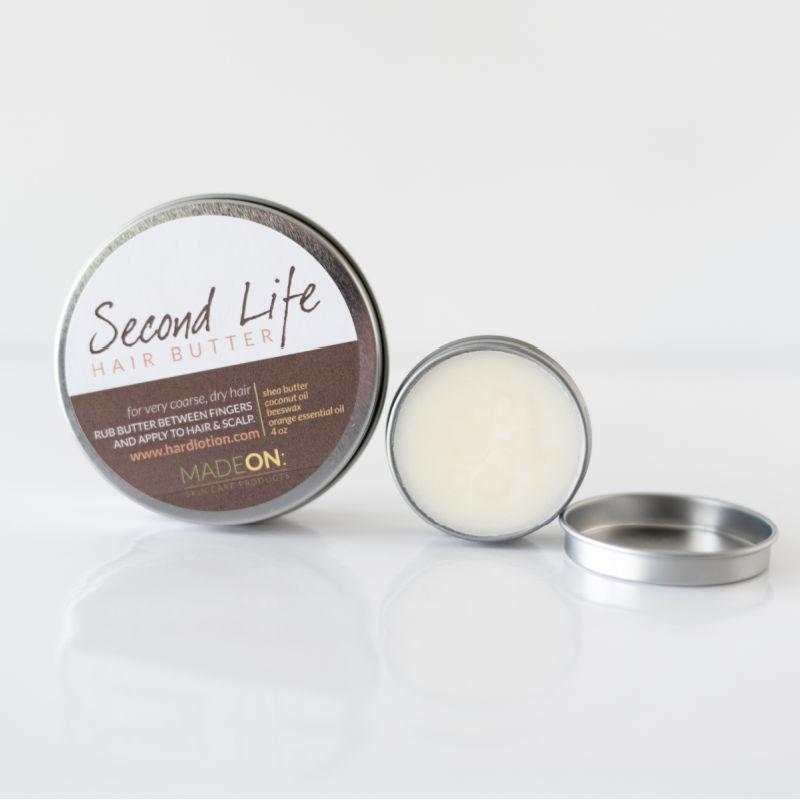 Second Life Hair Butter
Struggling with kinky, coarse, frizzy, or fly-away hair? Second Life Hair Butter combines shea butter and coconut oil to add moisture and oils to your hair, with just enough beeswax to add texture and style.
Ingredients: 76 degree coconut oil, unbleached beeswax, naturally refined shea butter, orange essential oil
To apply, scoop a small amount of butter from the tin and rub between your fingers to melt. Then apply to hair and/or scalp. Can be used on wet or dry hair, and can be a leave-in conditioner. It only takes a small amount!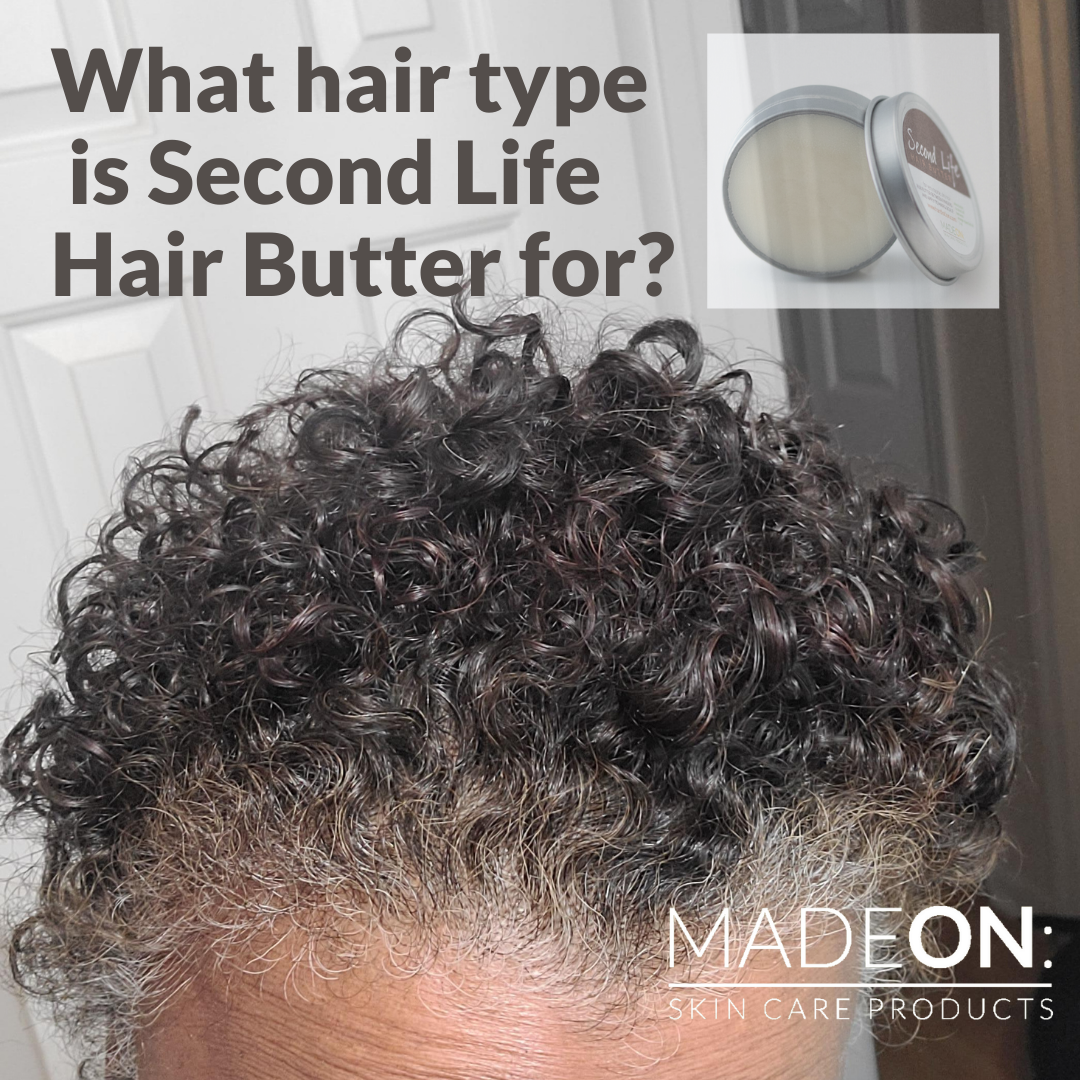 Sara W.
During the pandemic, I had cancer ( a tumor), so the chemo wiped my hair out. Now that is growing back..the tumor came back but much more controlled. So I just cut my hair supper short. The chemo thinned it alot! Anyway the second life hair butter is amazing. I happened to find 1/2 of a tin that I had from awhile back. It is absolutely amazing.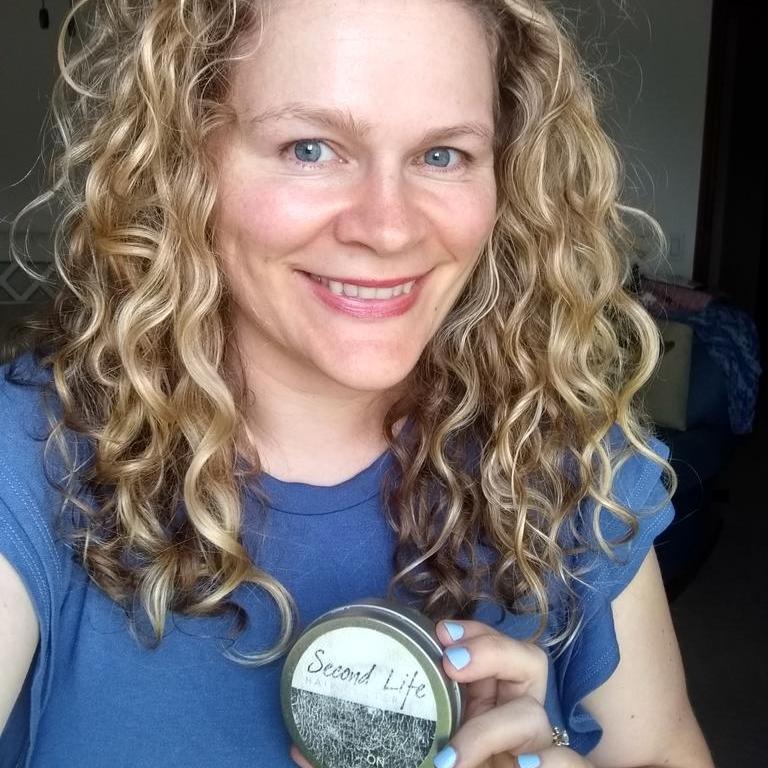 Laura S.
I really like this hair butter. I use it as a leave in conditioner. I apply it in the shower, after I have squeezed the excess water out of my hair. This does not take the place of a styler for me (I use a cream or mousse), but I can skip it if I choose to and this hair butter gives me a softer beachy look. Lasts a long time, I've had it 6 months and it's only half gone. Also works well as a lotion.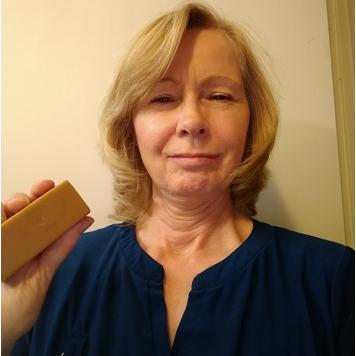 Barbara B.
I have dry hair with dandruff. I have been using this shampoo bar for a few months now and my hair is softer and less dandruff. I have started using a diluted vinegar rinse with it and so far I am very pleased. No more chemicals on my hair and skin. I have just received my second order (two bars this time). :)
On a trip to Italy last year I took shampoo from my stylist and also the bar shampoo from Made On. I was really worried about the bottles leaking so had them in a plastic bag. What I discovered was the bar soap made my hair stay cleaner longer and it was soft and fluffy. Who doesn't want that?? Going on another pilgrimage this fall and definitely taking the bar soap and Second Life Hair Butter!! Don't tell my hairdresser ;)
I have wavy curly hair that can and will easily frizz up. This hair butter is the only item that calms my frizz without weighing down my hair and lets my curls shine. Plus I love the fact that it's all natural and actually healthy for my hair.
My mother-in-law asked me to purchase this shampoo bar for her. She really likes the way it makes her hair feel and she has noticed that she isn't having as much hair loss. That was her greatest concern.
My 3 year old daughter and I really like the shampoo bar and I recently found out that my husband has also been using it too! I do need an ACV rinse after a few washes but I love how it lathers and it smells great!
For fun, here's the conversation that Joy and I had early on about her coarse hair:
Joy, June 21, 2022:
Hello!
I love the shampoo bar and I use the second life hair butter, but with my very coarse and thick hair I find that it's not enough moisturizer for me. I would love to use a conditioner bar but when I did some research most conditioner bars I found still had chemicals and other gunk in it. Do you have any recommendations for me? Thanks and looking forward to getting my products from you because I love them!!
Renee, June 22, 2022:
Great question! It inspired me to make it into a post.
Answer:
Apple cider vinegar!
That's right - so easy and it's inexpensive.
And no, it doesn't make you stink.
I'll use it about once a week after using the shampoo bar by simply pouring a bit over my head and fingering it through my hair until my hair is tangle-free and feeling clean. Then rinse. I do this right after shampooing my hair while I'm still in the shower.
Here are a couple of benefits:
1.) It is a pH balancer for both the hair and the scalp. Helps fight the dry skin from dandruff.
2.) It's an excellent detangler. Your hair can go longer between washes.
Joy, June 28, 2022:
Thanks Renee!
I'm not going to lie, I saw your response and was instantly hesitant. I have thick hair. So much so I have strangers come up to me and ask to touch my hair/braid because they want to feel how heavy it is or feel the weight. Every hairdresser I've been to has told me they've never had a client with as much hair plus how coarse and dry it is. I spend 10-15 minutes brushing my hair because of all the knots and tangles. So such a simple solution as using apple cider vinegar doesn't sound like it will work. However I went out and bought a big jug of it just to try. I wash my hair two times a week, so I've only done it once. I did notice my hair being softer but the jury is still out on if it's helped with the tangles. I will keep using up what I've got and hope it does improve the more I use it. I will try to keep you updated on how it goes. Thanks for the advice! 😁
Renee, June 29, 2022:
You'll definitely have to keep me updated!
I'll keep my eye out if I hear of anything else that might work.
Joy, October 10, 2022:
I just uploaded a video review this morning. I also included a video update on my hair since using apple cider vinegar. It's long, but I wanted you to see how it's helped my hair.
And that, my friends, is the video above.