Got a unexplained rash?
You have an unsettling rash that just won't go away.
You may have tried a food elimination diet to rule out rash due to food allergies.
You figured it's lasted too long to be a bug bite or bee sting.
You've cleaned out your home of detergents, chemicals, fabrics and skin care products with sketchy ingredients.
You're even pretty sure it's not stress-related.
Plus, you have used a zinc-oxide based rash cream to fix it, which helps, but the rash returns when you stop using the cream.
Could your itchy, red skin rash be caused by toxic mold in your home?
There's a very good chance it might be, but the effect of the mold doesn't always show up in your skin for quite awhile.
Check out #4 below to see if you have other symptoms in addition to the skin rash:
How black mold affects the skin:
Toxic mold, also known as black mold or Stachybotrys chartarum, can cause a variety of health problems, including skin irritation and rashes in some people. Here's how it can affect the skin:
Allergic reactions: Exposure to toxic mold can trigger allergic reactions in some people. This can cause skin rashes, itching, and hives.

Infections: Toxic mold can also cause skin infections in some people. This is more likely to happen in people with weakened immune systems. The infection can cause redness, itching, and pain in the affected area.

Mycotoxins: Mycotoxins produced by toxic mold can also affect the skin. These toxins can be absorbed through the skin, leading to rashes, itching, and other skin irritations.

Other symptoms: In addition to skin problems, exposure to toxic mold can also cause other symptoms such as headaches, fatigue, respiratory problems, and neurological symptoms.
Use this checklist to see if your skin rash might be prone to black mold:
You live in a water-damaged environment (mold thrives in places like an old building or basement that has had water damage).

You've recently moved.

You consume grains, nuts, wine, spices or coffee that may be contaminated by mycotoxin (often found in food with poor growing or harvesting practices.)

You see black mold in your home and any amount of bleach or other chemical to clean it up only returns the mold later.

You live in a humid environment.

You notice a musty smell in your home or there's poor ventilation.
How can I test for mold?
You can have your home tested by a mold inspector, or you can have various tests done for the toxins, or you can have your blood tested.
One option if you find out there's mold? Move. Or, read on...
If all tests positive for black mold, what do I do?
For a complete guide to getting the help you need, I HIGHLY recommend this guide: Your Complete Guide to Health Recovery From Toxic Mold by Bridgit Danner at www.bridgitdanner.com.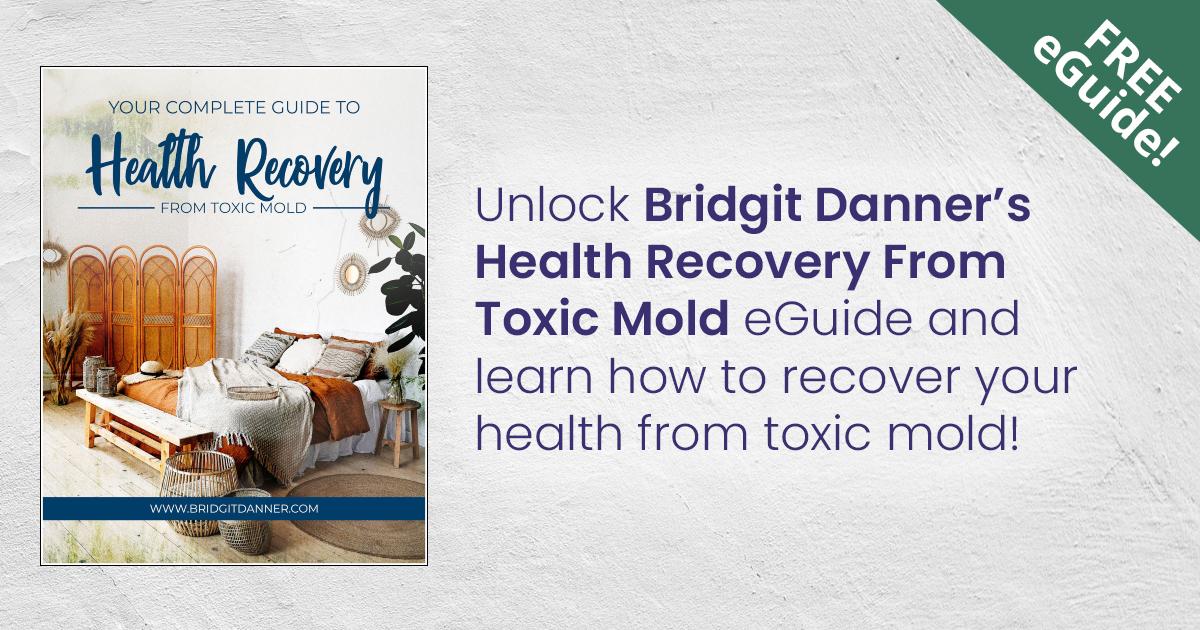 For a complete guide to getting the help you need, I HIGHLY recommend this guide: Your Complete Guide to Health Recovery From Toxic Mold by Bridgit Danner at www.bridgitdanner.com
From Bridgit: "COULD I HAVE TOXIC MOLD?" This is a key first question to ask yourself when you've been experiencing chronic symptoms, and the answer could be life-changing.
In this guide, we'll explore some of the first steps of the process as you consider whether or not you have mold, and then we'll focus on my personal specialty, removing mold toxins from the body.
In the meantime, our Simply Soothing Rash Cream can be the short term fix while you get to the root cause of your rash. Read what some of our customers have to say:
Catherine:
"My grandson is plagued with eczema on his legs and arms. Gave him the rash cream and it seems to relieve the itching and also is clearing up some of the patches. Highly recommend."
Ebbie:
"I have very easily irritated skin. The rash cream protects and soothes the chafed areas while moisturizing."
Feeling hopeful?  Ready for skin that's smooth, soft, and pain-free? Remember, start fixing your skin with products that don't contain water, fragrance, or additives that can keep your skin from relief and healing.
These products may provide relief for the symptoms of eczema and other related skin conditions. Please reach out to us by email if you have any questions at all. We understand this distressing condition and we want to help as much as we can.
Simply Soothing Rash Cream Testimonial
Jane W:
This rash cream is wonderful!!!! It works on all of my family's skin rashes, irritations, itches - we use it for everything. And it works!!
Great Stuff!!
I have multiple skin issues, from very thin skin, to dermatitis, to unknown rashes and highly allergic to any kind of insect bite or sting. I literally need to take Benadryl to ease the itching. Having said that, I tried the Simply Smoothing Rash Cream and it is excellent. It really does calm the itching and fully moisturizes my skin. Highly recommend.
Clears up diaper rash fast
I was using your junior product on baby's bum until the soothing rash lotion arrived. Your regular lotion helped so much my little one hardly gets a rash. So now if there's the slightest pink I put soothing rash on, and it clears it up quick.
When I first got your bee silk lotion years ago, I was making my own sunscreen by crudely mixing zinc oxide and the simplest form of liquid lotion I could find. It did the job, not pretty though. And after using hard lotion, I just couldn't buy another liquid lotion with all those extra ingredients. I'm not sure why it took me so long to connect the dots. But I love your soothing rash lotion. It goes on so easily and absorbs quickly, I think this will be great for sunscreen when we need it on our face. Can't wait to try it out.
Thank you Renee for another awesome product.
Great products!
Soothing is right! It reaches small areas, feels good and helps heal rashes
New diaper rash cream
I've never tried a diaper rash cream with zinc oxide in it, because all those I saw had other odd ingredients in them. This one was a great exception :) The ingredients are clean and the cream has been great for my son's diaper rash. So glad we tried this :)
Nice product- not the miracle I was hoping for
I got this because my son has had some really dry patches of skin through the winter. Reading the reviews, I was hoping this would be a miracle solution for us. He's been using it daily for 3 weeks now without much change to his condition. I feel good about the ingredients, but this wasn't the miracle I was hoping for.
Absolutely Surprised and Thrilled! Simply Soothing Rash Cream!
I am a senior citizen, a grandma, and I've had 5 children via C-sections. I am round in shape and thus I have overlapping skin folds, which get worse as I age. The skin underneath the overlapping skin has been red, irritated and very sore, like a severe sunburn. I have even had yeast in these skin folds. I had been using an antifungal powder for the past few years trying to address the skin irritation, but I had to apply the powder several times a day and it didn't even fully prevent the irritation and pain.
My dermatologist told me to stop the powder and to use a cream that contained zinc oxide.
I've been using the Simply Soothing Rash Cream for several weeks now and from the first application it has provided relief from the burning, soreness and irritation. Plus I don't need to reapply it during the day, just once works great. I have not had any soreness or irritation in my skin folds since I starting using it. The stick form makes it very easy to apply.
I'm sold! No more powder! I'm using Simply Soothing Rash Cream daily. My dermatologist was very pleased.
Even my snarky TEENS like this!!
I purchased a Simply Soothing stick for myself and immediately loved the feel on my winter skin, especially under my eyes, which is especially sensitive from the dry air. One of my teenage daughters was complaining about dryness and I offered her my stick to try. She is PICKY and completely resistant to any of my 'natural' or 'DIY' style treatments, but she agreed (I suspect it was only so she could tell me it didn't work LOL) Lo, and behold - the next morning she asked if she could borrow the stick for school!!! As soon as she was gone, I ordered a stick for each kid for Valentine's Day (I like to give them something 'loving' <3 )
They all love them!! My oldest (in college) mentioned that it's become her nighttime moisturizer - easy to apply and totally absorbs overnight leaving soft, soothed skin by morning. Thank you for such an awesome product!! I will be ordering another round for all of us!
Sweet Dreams with Simple Soothing Rash Cream
Since the Pandemic and the introduction of harsher and harsher chemicals in the workplace, it can be difficult to ride the wave to balance sanitation with safety. With sanitation compliance, I was experiencing warning signals on my skin with dryness, itchiness, redness and discomfort. At night, I had an especially hard time gearing down to sleep with my hands and forearms itching all the way past my elbows. Since I couldn't sleep, I got up looking through the cabinets to find something to help. That's when I saw a travel-size Simply Soothing Rash Cream that I had bought for First Aid summer misadventures. I applied a generous amount to my hands and arms like evening gloves. It immediately stopped the burning and itching like magic! I slept like a baby. Although Renee originally made it for diaper rash, I'm glad that she took "diaper" off the label! ;D I used it for several consecutive nights to heal the micro-abrasions on my skin due to harsh sanitation chemicals. Ahhhh, Sweet Dreams…
Healing cream
I mainly use on the baby's bottom if an issue arises but my husband uses it for big guy chaffing, nothing else has ever helped like the simply soothing has