Regular price
Sale price
$13.00 USD
Unit price
per
Sale
Sold out
⭐⭐⭐⭐⭐"This is the only thing I have found to keep the frizz on my curly hair down. I am a repeat customer and very happy with it." -Rebecca
Struggling with kinky, coarse, frizzy, or fly-away hair? Second Life Hair Butter combines shea butter and coconut oil to add moisture and oils to your hair, with just enough beeswax to add texture and style.  
Ingredients: 76 degree coconut oil, unbleached beeswax, naturally refined shea butter, orange essential oil

To apply, scoop a small amount of butter from the tin and rub between your fingers to melt. Then apply to hair and/or scalp. Can be used on wet or dry hair, and can be a leave-in conditioner. It only takes a small amount!
Features

Long-lasting hair butter
Light orange scent
Adds needed oil to dry hair
A little goes a long way
Travel-friendly
Shipping & Returns

Free shipping on orders over $75.

100% money back guarantee. Contact us if you need a refund.

hello@hardlotion.com
Share
View full details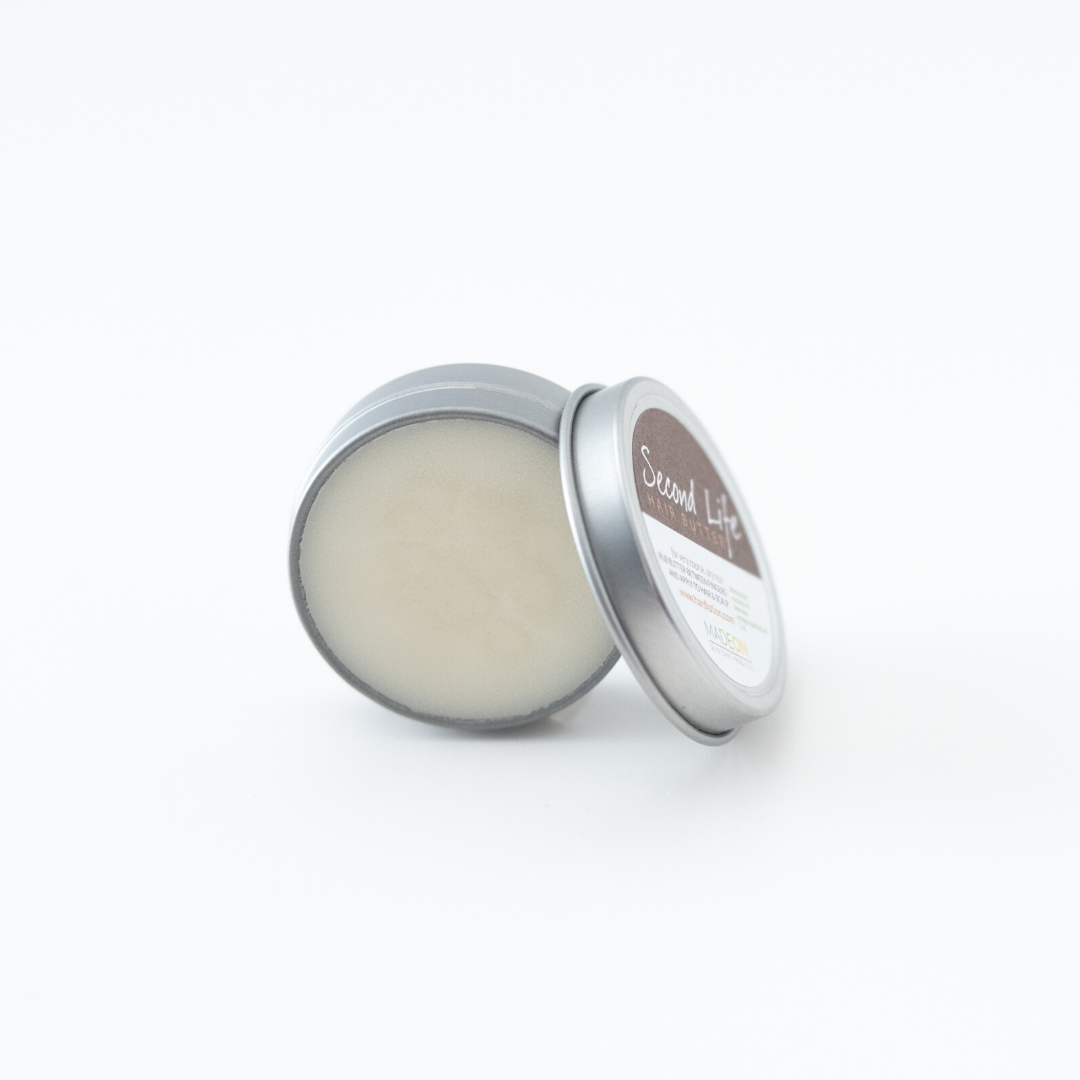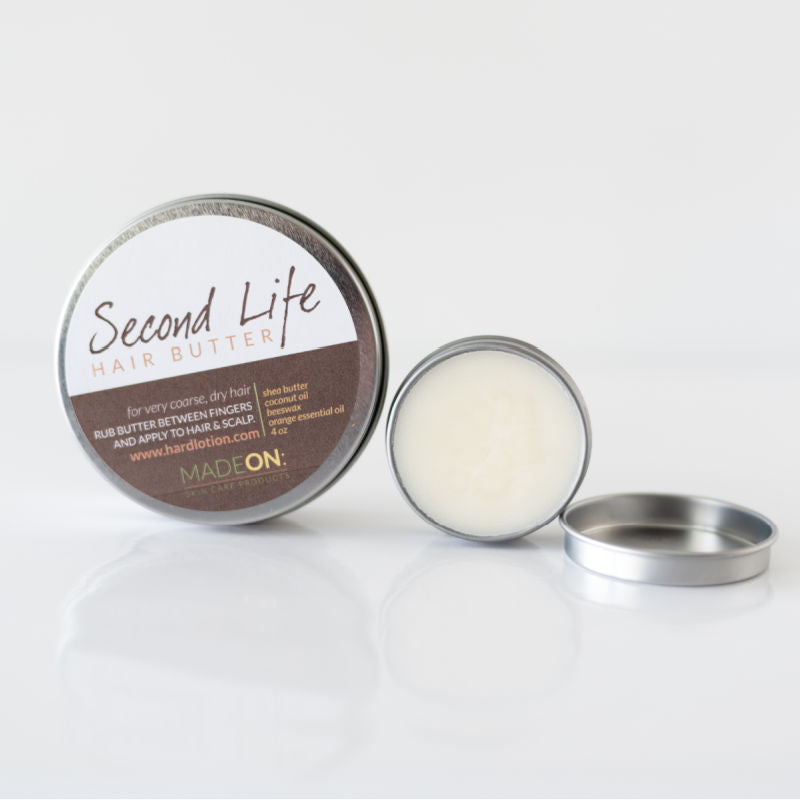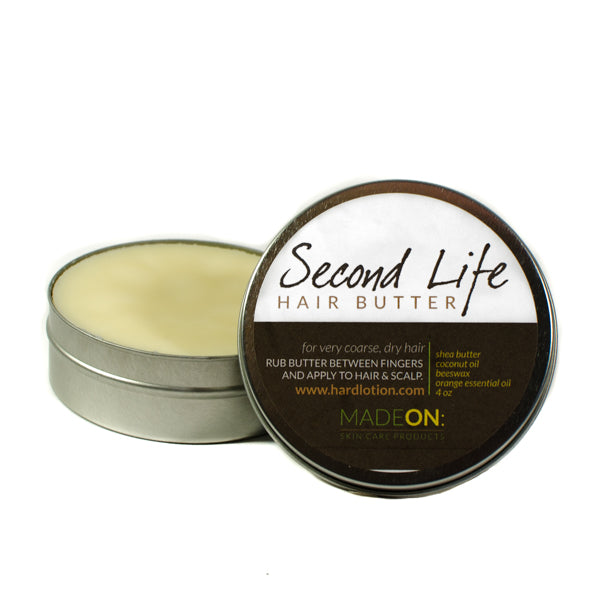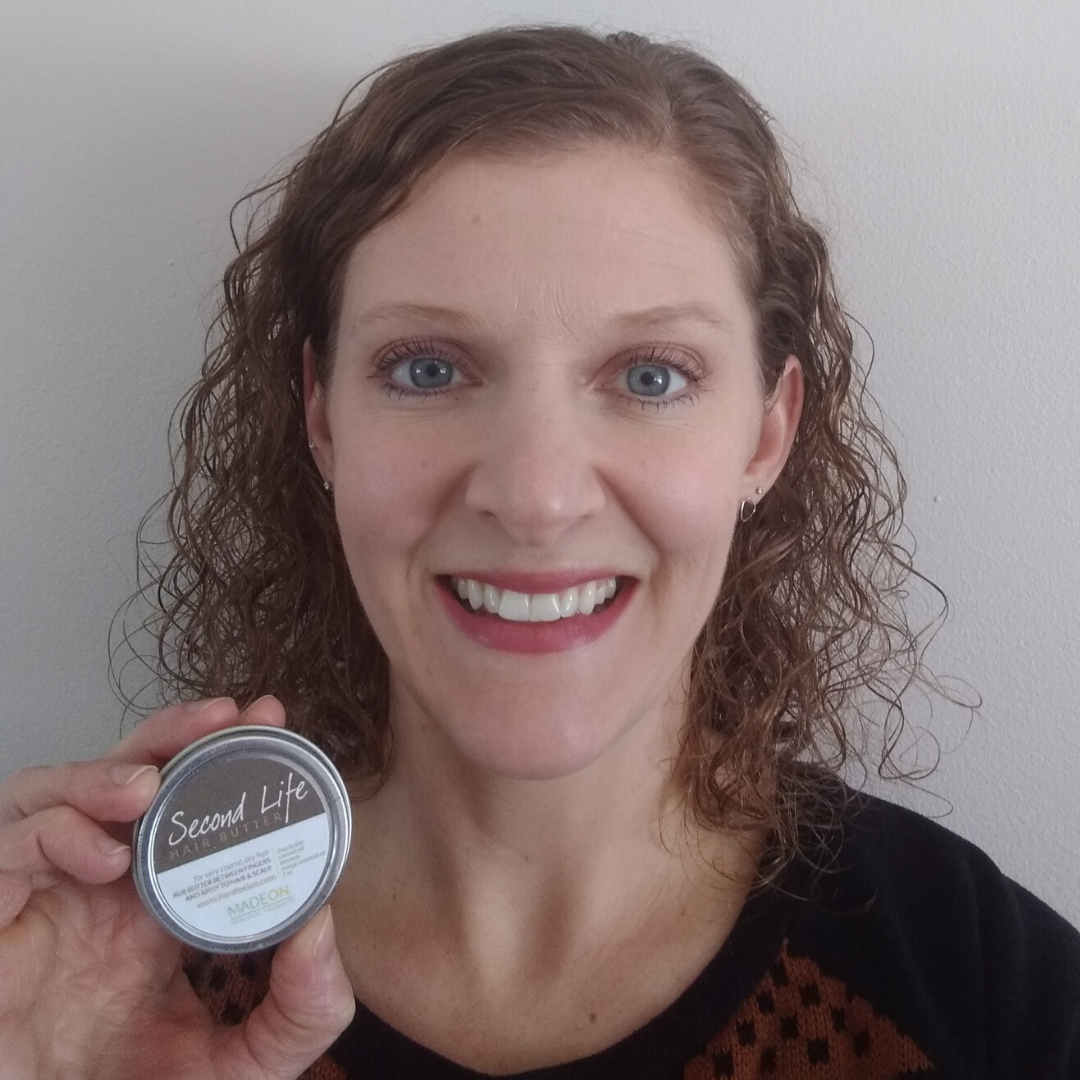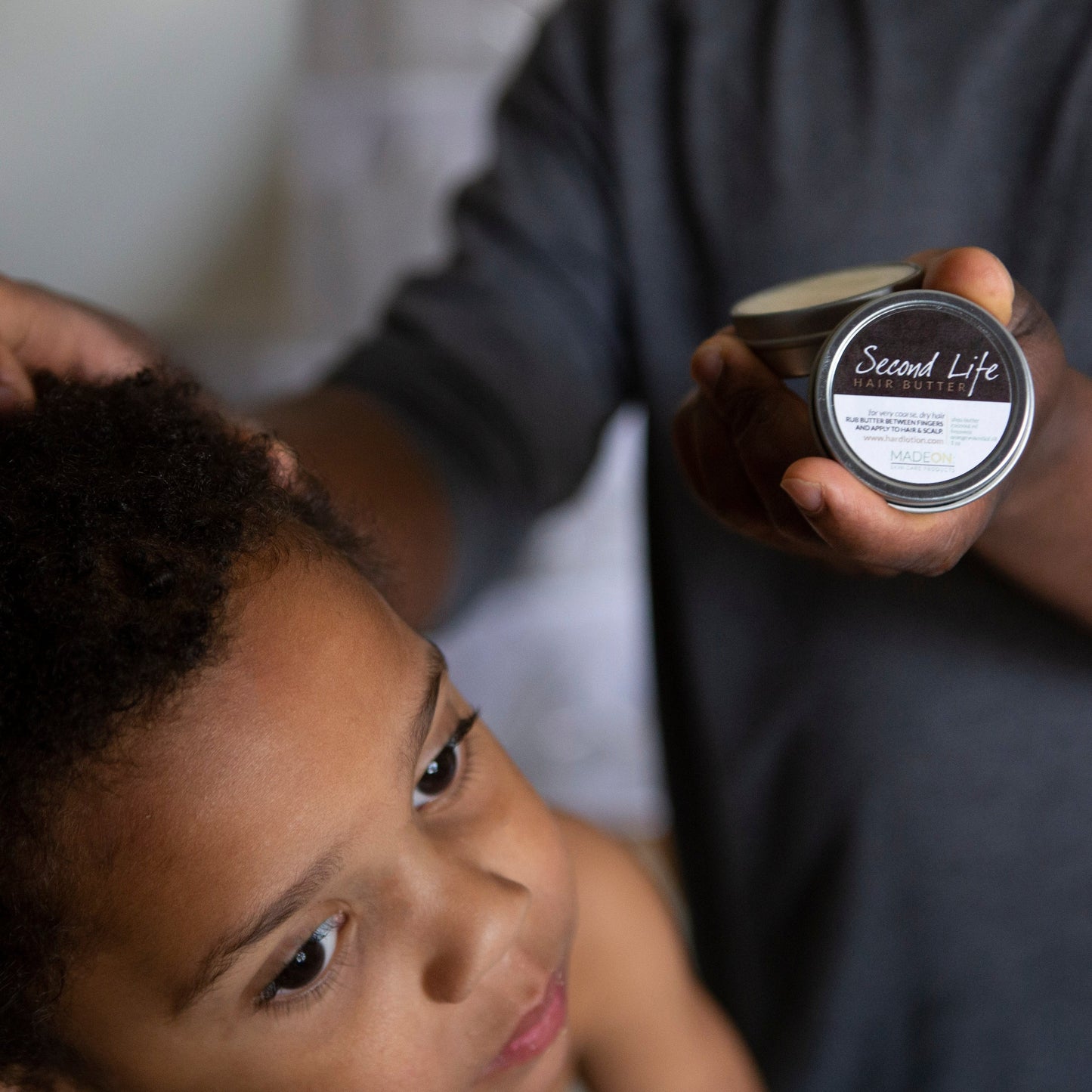 Love this
This is the only product I have found that will keep my flyaways contained. I have slightly wavy hair and have always had a corona of frizz. I got this and started putting in on after washing my hair, and between washdays as needed.
Better is Second Life Hair Butter!
My appreciation for all things MadeOn increases with continued use, especially if I temporarily have to use something else. Years ago, long before the pandemic, ;D I had a favorite hair product that was strong enough to hold the sides of my hair up in a tight bun without shedding like dandruff throughout the day. It was like gorilla glue for hair and worked well in heated, humid conditions. Then, I decided to give Second Life Hair Butter a try. It could "glue" my hair up into my tight bun, but afterwards I noticed that my hair wasn't stiff, brittle or dry like with the "other product" I'd been using. I could use a lot less product, too. It was gentler on my "vintage" hair, but strong enough to tame the increasingly uninhibited, wiry silver tinsel appearing in my dark hair. Then…it ran out. Not my silver tinsel, my Second Life Hair Butter was out of stock, in my own cupboard and at MadeOn! While I waited for MadeOn to contact me when it was back in stock, I went back to my old hair product to use in this emergency. My love for it was not the same! Since our previous experience, I had discovered better, I wanted better, I needed better. Better is Second Life Hair Butter. I'm usually a very frugal person, but when my Second Life Hair Butter arrived, without a second thought I carelessly tossed my almost-full old stand-by in the trash. I deserved better, and now, I had better, Second Life Hair Butter. YAY! :D
Perfect and Natural
I have curly hair. This stuff works great on it.
Have not used this product yet. I have fine hair and it might weigh it down.
Bar Shampoo? Yes!!
On a trip to Italy last year I took shampoo from my stylist and also the bar shampoo from Made On. I was really worried about the bottles leaking so had them in a plastic bag. What I discovered was the bar soap made my hair stay cleaner longer and it was soft and fluffy. Who doesn't want that?? Going on another pilgrimage this fall and definitely taking the bar soap and Second Life Hair Butter!! Don't tell my hairdresser ;)
The only hair product I use.
It is the only thing I have found to keep the frizz on my curly hair down. I am a repeat customer and very happy with it.
Second life hair butter not just for hair
It's a bit heavy for my hair but I do use it as a deep conditioner and rub it in my hair the night before I wash it.
That said - I love to use it as a hand and face lotion at night. I'm a sucker for citrus - I'm addicted to the scent!
Effective!
My hair gets really greasy at the crown after several days; since I've lost so much after sickness and stress, I was worried this would weigh my hair down, but I needed to try something. My hair does not get greasy, and it's lightweight enough that it doesn't weigh down what I have left.
I was waiting for the product and I think that it is not the right product for my hair I need to use it more frequently I am gonna give like two weeks to see if it works better.