Regular price
Sale price
$13.00 USD
Unit price
per
Sale
Sold out
⭐⭐⭐⭐⭐ "This is my second order of Rash Cream. This is a wonderful product. I put it on anything I consider a rash. It works on mosquito bites too.... patches of dry skin. I use it when I get a pimple. Everything is corrected the next morning. I love it!!!" -Amy 
What's in Simply Soothing that makes it so effective for rash and other skin issues? It's the zinc oxide! Zinc oxide makes up a good portion of our recipe and you'll find the same effective ingredient in rash cream brands like Desitin... except ours doesn't smell "fishy". 
Does it hurt to apply?  It's a fast-acting cream that is not just pain-free to apply, but has only 3 ingredients. A special combination of coconut oil, zinc oxide and beeswax, Simply Soothing absorbs into the skin, not the diaper.
Choose from a family size or pocket-size tin, or a stick.

Ingredients: 76 degree coconut oil, unbleached beeswax, & non-nano, uncoated zinc oxide

To apply, scoop a small amount of butter from the tin and apply to the rash. The rash cream works best at room temperatures above 70 degrees. Cooler temperatures cause the cream to be "harder" and require additional warming by swiping with the finger.
Features

Easy to apply
No scent
Works for cloth diapers
Pain-free application
Travel-friendly
Shipping & Returns

Free shipping on orders over $75.

100% money back guarantee. Contact us if you need a refund.

hello@hardlotion.com
Share
View full details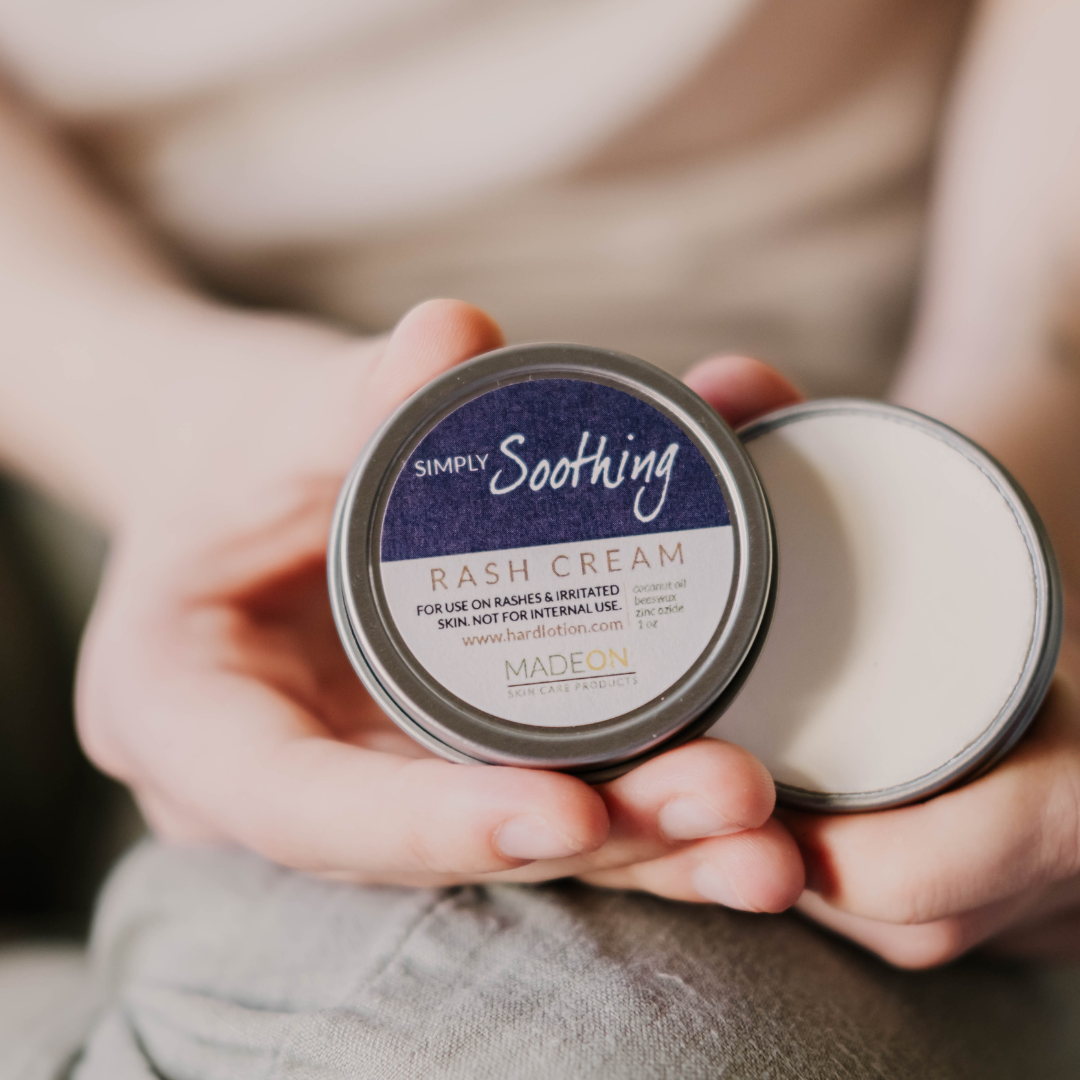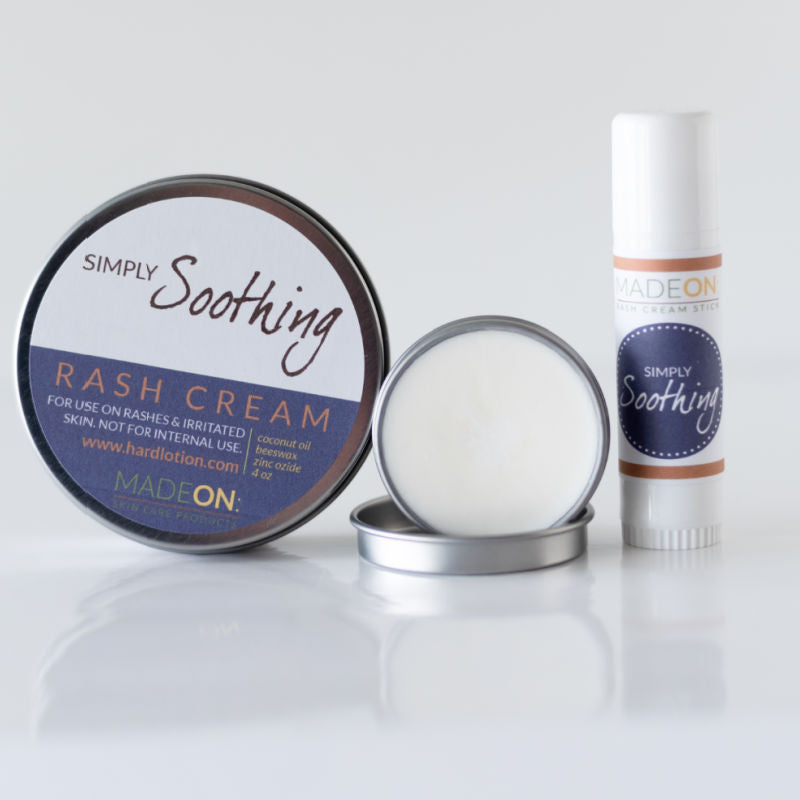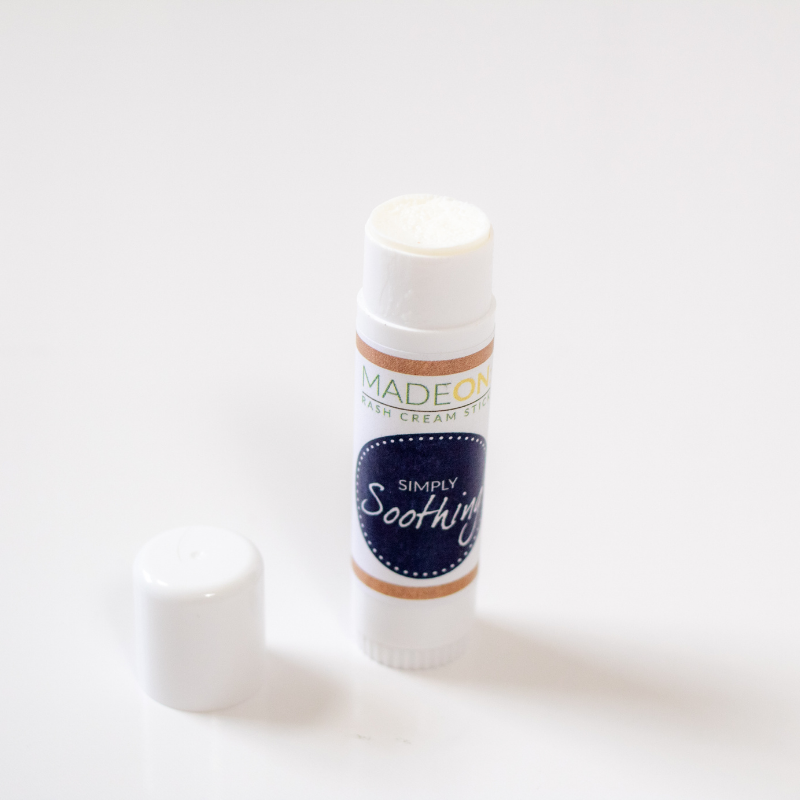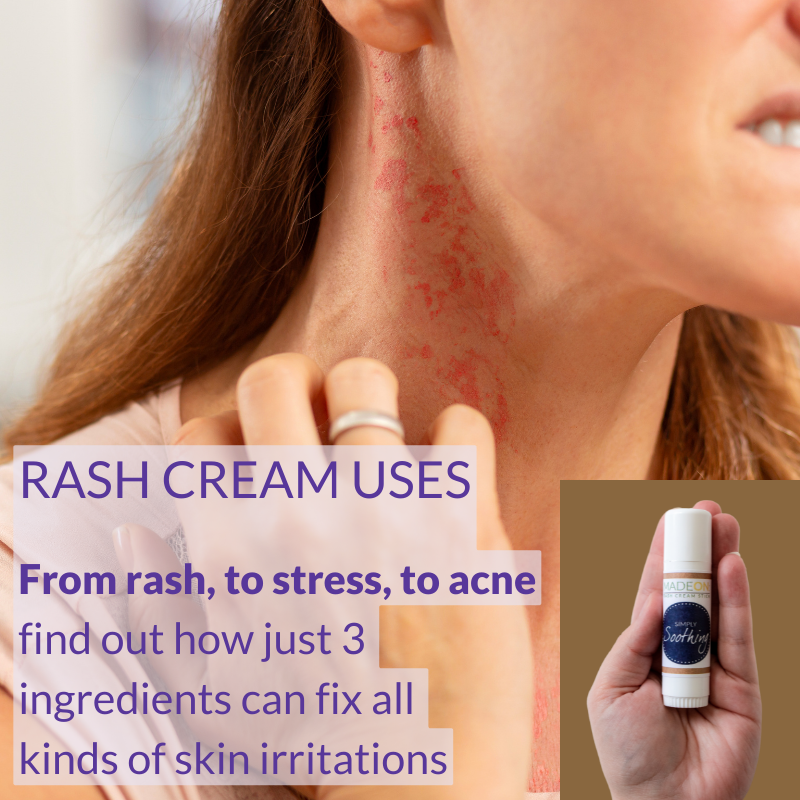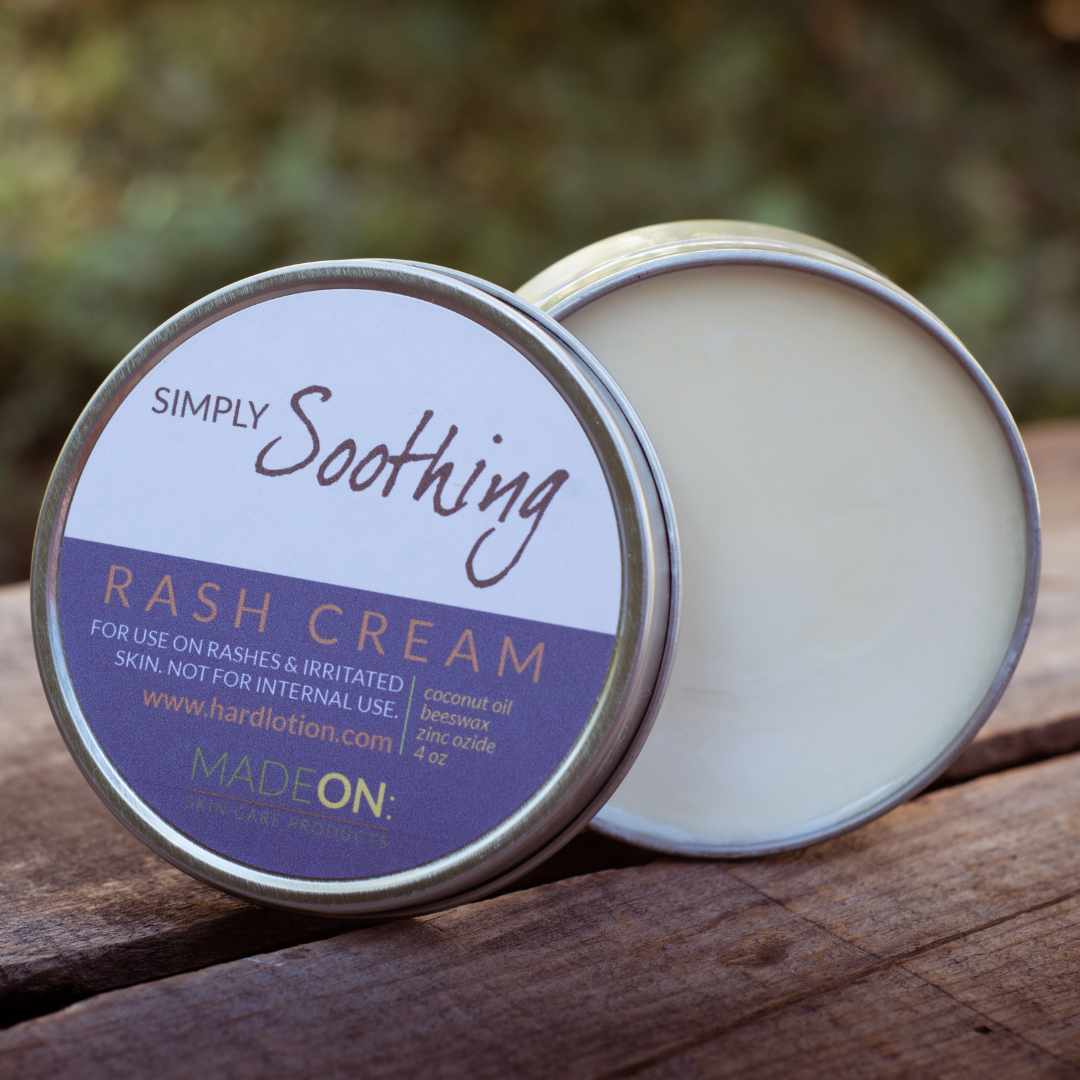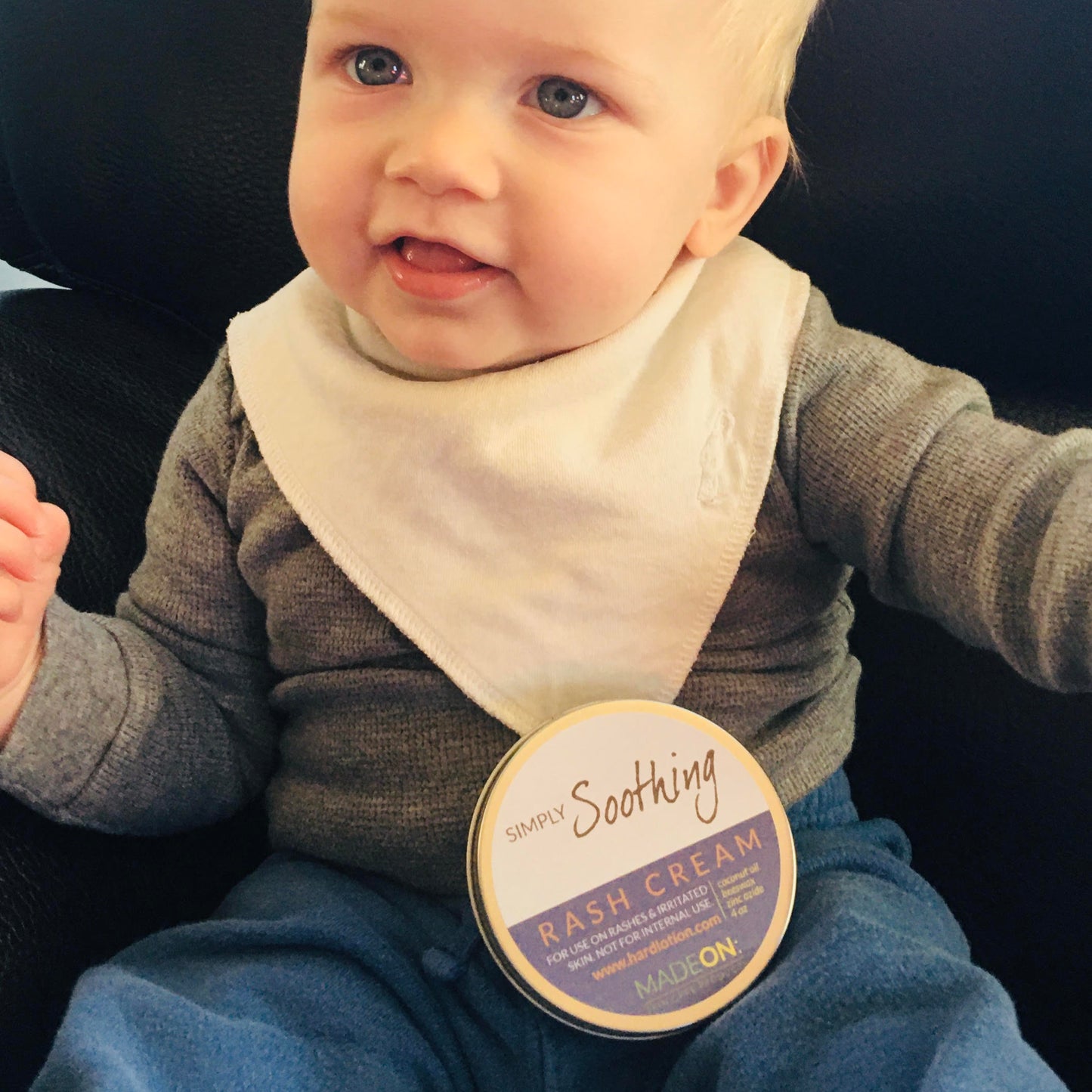 Great for all kinds of things
For starters, this is my go-to gift for baby showers and new moms. It works great on diaper rash, but I have used it for scrapes, scratches, rashes, etc. on little and big people alike.
Great Stuff!!
I have multiple skin issues, from very thin skin, to dermatitis, to unknown rashes and highly allergic to any kind of insect bite or sting. I literally need to take Benadryl to ease the itching. Having said that, I tried the Simply Smoothing Rash Cream and it is excellent. It really does calm the itching and fully moisturizes my skin. Highly recommend.
Clears up diaper rash fast
I was using your junior product on baby's bum until the soothing rash lotion arrived. Your regular lotion helped so much my little one hardly gets a rash. So now if there's the slightest pink I put soothing rash on, and it clears it up quick.
When I first got your bee silk lotion years ago, I was making my own sunscreen by crudely mixing zinc oxide and the simplest form of liquid lotion I could find. It did the job, not pretty though. And after using hard lotion, I just couldn't buy another liquid lotion with all those extra ingredients. I'm not sure why it took me so long to connect the dots. But I love your soothing rash lotion. It goes on so easily and absorbs quickly, I think this will be great for sunscreen when we need it on our face. Can't wait to try it out.
Thank you Renee for another awesome product.
Great products!
Soothing is right! It reaches small areas, feels good and helps heal rashes
New diaper rash cream
I've never tried a diaper rash cream with zinc oxide in it, because all those I saw had other odd ingredients in them. This one was a great exception :) The ingredients are clean and the cream has been great for my son's diaper rash. So glad we tried this :)
Nice product- not the miracle I was hoping for
I got this because my son has had some really dry patches of skin through the winter. Reading the reviews, I was hoping this would be a miracle solution for us. He's been using it daily for 3 weeks now without much change to his condition. I feel good about the ingredients, but this wasn't the miracle I was hoping for.
Absolutely Surprised and Thrilled! Simply Soothing Rash Cream!
I am a senior citizen, a grandma, and I've had 5 children via C-sections. I am round in shape and thus I have overlapping skin folds, which get worse as I age. The skin underneath the overlapping skin has been red, irritated and very sore, like a severe sunburn. I have even had yeast in these skin folds. I had been using an antifungal powder for the past few years trying to address the skin irritation, but I had to apply the powder several times a day and it didn't even fully prevent the irritation and pain.
My dermatologist told me to stop the powder and to use a cream that contained zinc oxide.
I've been using the Simply Soothing Rash Cream for several weeks now and from the first application it has provided relief from the burning, soreness and irritation. Plus I don't need to reapply it during the day, just once works great. I have not had any soreness or irritation in my skin folds since I starting using it. The stick form makes it very easy to apply.
I'm sold! No more powder! I'm using Simply Soothing Rash Cream daily. My dermatologist was very pleased.
Even my snarky TEENS like this!!
I purchased a Simply Soothing stick for myself and immediately loved the feel on my winter skin, especially under my eyes, which is especially sensitive from the dry air. One of my teenage daughters was complaining about dryness and I offered her my stick to try. She is PICKY and completely resistant to any of my 'natural' or 'DIY' style treatments, but she agreed (I suspect it was only so she could tell me it didn't work LOL) Lo, and behold - the next morning she asked if she could borrow the stick for school!!! As soon as she was gone, I ordered a stick for each kid for Valentine's Day (I like to give them something 'loving' <3 )
They all love them!! My oldest (in college) mentioned that it's become her nighttime moisturizer - easy to apply and totally absorbs overnight leaving soft, soothed skin by morning. Thank you for such an awesome product!! I will be ordering another round for all of us!
Sweet Dreams with Simple Soothing Rash Cream
Since the Pandemic and the introduction of harsher and harsher chemicals in the workplace, it can be difficult to ride the wave to balance sanitation with safety. With sanitation compliance, I was experiencing warning signals on my skin with dryness, itchiness, redness and discomfort. At night, I had an especially hard time gearing down to sleep with my hands and forearms itching all the way past my elbows. Since I couldn't sleep, I got up looking through the cabinets to find something to help. That's when I saw a travel-size Simply Soothing Rash Cream that I had bought for First Aid summer misadventures. I applied a generous amount to my hands and arms like evening gloves. It immediately stopped the burning and itching like magic! I slept like a baby. Although Renee originally made it for diaper rash, I'm glad that she took "diaper" off the label! ;D I used it for several consecutive nights to heal the micro-abrasions on my skin due to harsh sanitation chemicals. Ahhhh, Sweet Dreams…