Since we sell natural products, I get asked all the time if we sell sunscreen (bonus points if it's reef-safe).
To actually make good-enough sunscreen in your own kitchen is do-able (although there are definitely systems you need to follow if you're relying on full sun protection but YAY for zinc oxide as a safe ingredient!) In fact, for those times I'm in the sun for a slightly extended period of time and I'm starting to feel the pink, I'll just rub in some of our Simply Soothing Rash Cream because the zinc oxide makes a fantastic SPF protection.
However, selling it is extremely difficult. It is so highly regulated and complicated with all the FDA procedures and hoops to jump through, that long ago we opted out of even attempting to go down this road. Read my reasons here.
That's the unfortunate news.
Then I found an effective SAFE and NATURAL Sunscreen (with edible ingredients!)
The good news is, we found a fabulous company with a sunblock that works extremely well on our skin.
Even my young daughter Sophie approved!
And it outperforms all other sunscreen products. And it's baby and pregnancy-safe.
I found 3rd Rock Sunblock first through Kitchen Stewardship's extensive research on sunscreen.
I ordered a tube and later got on a call with Kyle of 3rd Rock to get more information.
I was impressed to find out that the founder, Guerry, is both a chemist and a surfer and he put both passions into his project many years ago after having two younger surfer friends find out they had melanoma. (Here's the rest of that story.)
Guerry created 3rd Rock Sunblock and other products with the same important message that we've been saying with our products:
Here are all the benefits of 3rd Rock Natural Sunblock
You need both UVA protection (the most dangerous rays that run deep and cause melanoma) and UVB protection (the one that burns). 3rd Rock Sunblock is a proven broad-spectrum sunscreen lotion that offers protection from both.

3rd Rock Sunblock can be used with infants and sensitive skin.

3rd Rock is non-comedogenic.

It's made with food-grade ingredients.

It's endocrine and disruptor free.

It's made with 23.5% zinc oxide.

3rd Rock Sunblock is sweat and water-resistant.

They offer SPF 35!

Not just a reef-safe sunscreen but it feeds the reef.

They have their own patented zinc formula that has been tested and has outperformed ALL other sunscreens.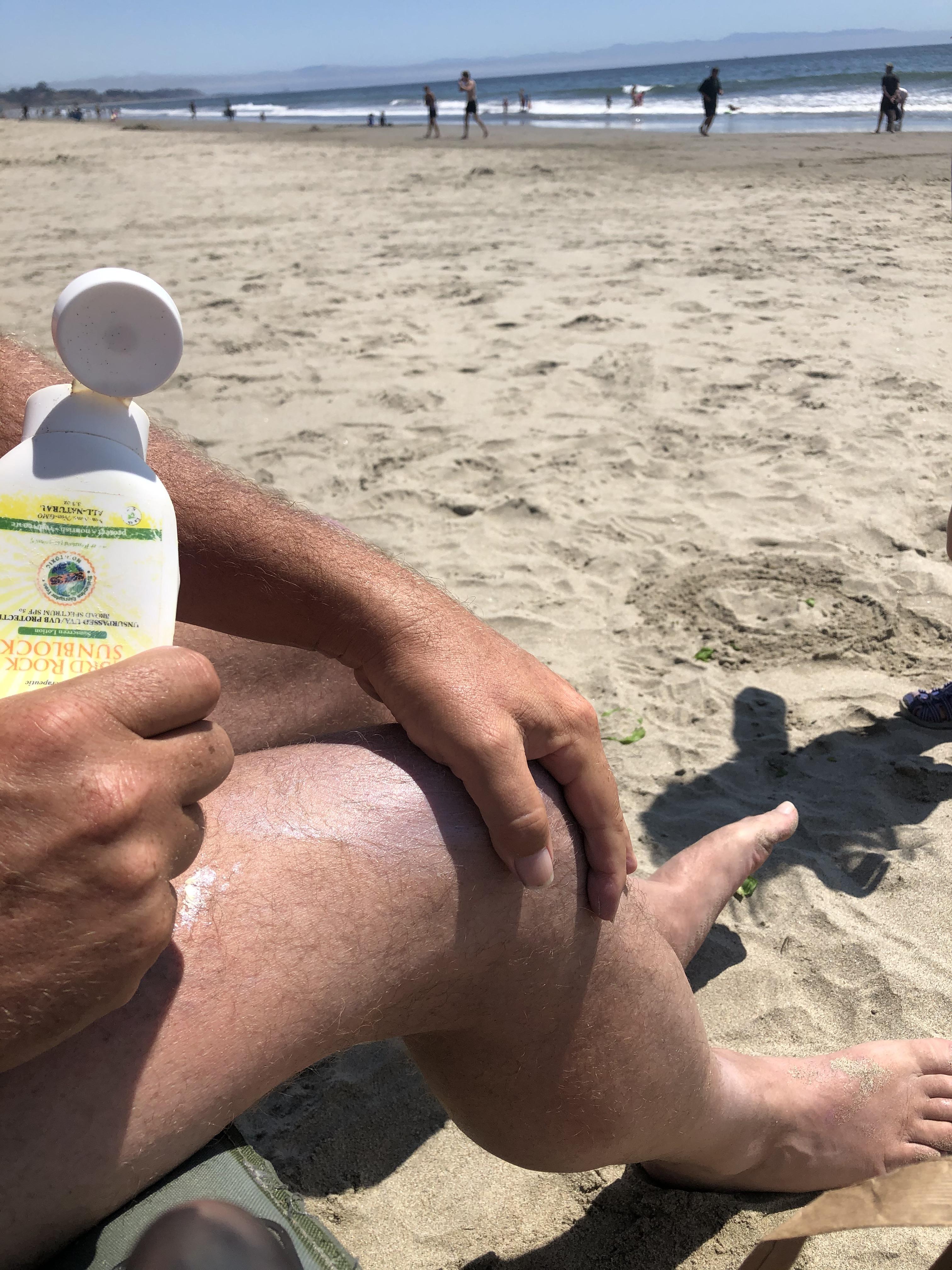 How 3rd Rock Sunscreen Worked for Us
Over the 4th of July weekend, we headed to our favorite mountain town getaway. This meant we were in the direct sun for a few hours while in town, and even more so when we headed to the lake. Plenty of time for A LOT of sun exposure.
Generally, I am just not a fan of sunscreen and only keep it handy if we need it. I make sure to keep the family out of the strongest rays in the middle of the day, wear a hat, and come in at the first sign of pink. And that's mostly avoiding the more obvious UVB rays.
This, however, was clearly the day to use it.
As someone who makes our own homemade version, I was already prepared for the slightly chalky feel that comes from using zinc oxide. You need it if you want something as high as a 35 SPF. And it will also come on with more whiteness than your cheap-o sunscreen.
3rd Rock does have a bit of that thick feel and whiteness but it absorbs right in. It actually feels like it's working double duty as a lotion (it has beeswax! No surprise there!). So I was thrilled that I could keep active Sophie quickly covered without having to spend time working it into her skin.
I think I loved the scent the most! I correctly identified a hint of frankincense, which I always appreciate in any skincare product.
The best part? By the end of the day, we were burn-free and not a hint of pink, even after swimming.
Kyle hooked us up with a 20% off coupon code (MADEON) that you can use anytime for any product, not just their sunblock.
Find all their products by clicking here.
I'll be back to 3rd Rock to try out their other products, like a Neosporin alternative and an odor-fighting deodorant (update: this deodorant is all I use now!)
Staying safe in the sun,
Renee Harris
P.S. Don't forget that 3rd Rock is generously offering you 20% off using code MADEON
More Help for Parched Skin:
Simply Soothing Rash Cream Testimonial
Jane W:
This rash cream is wonderful!!!! It works on all of my family's skin rashes, irritations, itches - we use it for everything. And it works!!
Great Stuff!!
I have multiple skin issues, from very thin skin, to dermatitis, to unknown rashes and highly allergic to any kind of insect bite or sting. I literally need to take Benadryl to ease the itching. Having said that, I tried the Simply Smoothing Rash Cream and it is excellent. It really does calm the itching and fully moisturizes my skin. Highly recommend.
Clears up diaper rash fast
I was using your junior product on baby's bum until the soothing rash lotion arrived. Your regular lotion helped so much my little one hardly gets a rash. So now if there's the slightest pink I put soothing rash on, and it clears it up quick.
When I first got your bee silk lotion years ago, I was making my own sunscreen by crudely mixing zinc oxide and the simplest form of liquid lotion I could find. It did the job, not pretty though. And after using hard lotion, I just couldn't buy another liquid lotion with all those extra ingredients. I'm not sure why it took me so long to connect the dots. But I love your soothing rash lotion. It goes on so easily and absorbs quickly, I think this will be great for sunscreen when we need it on our face. Can't wait to try it out.
Thank you Renee for another awesome product.
Great products!
Soothing is right! It reaches small areas, feels good and helps heal rashes
New diaper rash cream
I've never tried a diaper rash cream with zinc oxide in it, because all those I saw had other odd ingredients in them. This one was a great exception :) The ingredients are clean and the cream has been great for my son's diaper rash. So glad we tried this :)
Nice product- not the miracle I was hoping for
I got this because my son has had some really dry patches of skin through the winter. Reading the reviews, I was hoping this would be a miracle solution for us. He's been using it daily for 3 weeks now without much change to his condition. I feel good about the ingredients, but this wasn't the miracle I was hoping for.
Absolutely Surprised and Thrilled! Simply Soothing Rash Cream!
I am a senior citizen, a grandma, and I've had 5 children via C-sections. I am round in shape and thus I have overlapping skin folds, which get worse as I age. The skin underneath the overlapping skin has been red, irritated and very sore, like a severe sunburn. I have even had yeast in these skin folds. I had been using an antifungal powder for the past few years trying to address the skin irritation, but I had to apply the powder several times a day and it didn't even fully prevent the irritation and pain.
My dermatologist told me to stop the powder and to use a cream that contained zinc oxide.
I've been using the Simply Soothing Rash Cream for several weeks now and from the first application it has provided relief from the burning, soreness and irritation. Plus I don't need to reapply it during the day, just once works great. I have not had any soreness or irritation in my skin folds since I starting using it. The stick form makes it very easy to apply.
I'm sold! No more powder! I'm using Simply Soothing Rash Cream daily. My dermatologist was very pleased.
Even my snarky TEENS like this!!
I purchased a Simply Soothing stick for myself and immediately loved the feel on my winter skin, especially under my eyes, which is especially sensitive from the dry air. One of my teenage daughters was complaining about dryness and I offered her my stick to try. She is PICKY and completely resistant to any of my 'natural' or 'DIY' style treatments, but she agreed (I suspect it was only so she could tell me it didn't work LOL) Lo, and behold - the next morning she asked if she could borrow the stick for school!!! As soon as she was gone, I ordered a stick for each kid for Valentine's Day (I like to give them something 'loving' <3 )
They all love them!! My oldest (in college) mentioned that it's become her nighttime moisturizer - easy to apply and totally absorbs overnight leaving soft, soothed skin by morning. Thank you for such an awesome product!! I will be ordering another round for all of us!
Sweet Dreams with Simple Soothing Rash Cream
Since the Pandemic and the introduction of harsher and harsher chemicals in the workplace, it can be difficult to ride the wave to balance sanitation with safety. With sanitation compliance, I was experiencing warning signals on my skin with dryness, itchiness, redness and discomfort. At night, I had an especially hard time gearing down to sleep with my hands and forearms itching all the way past my elbows. Since I couldn't sleep, I got up looking through the cabinets to find something to help. That's when I saw a travel-size Simply Soothing Rash Cream that I had bought for First Aid summer misadventures. I applied a generous amount to my hands and arms like evening gloves. It immediately stopped the burning and itching like magic! I slept like a baby. Although Renee originally made it for diaper rash, I'm glad that she took "diaper" off the label! ;D I used it for several consecutive nights to heal the micro-abrasions on my skin due to harsh sanitation chemicals. Ahhhh, Sweet Dreams…
Healing cream
I mainly use on the baby's bottom if an issue arises but my husband uses it for big guy chaffing, nothing else has ever helped like the simply soothing has