Regular price
$20.00 USD
Sale price
$17.00 USD
Unit price
per
Sale
Sold out
⭐⭐⭐⭐⭐ "With the winter dryness and almost constant hand-washing my hands have suffered, I love the Beesilk lotion bar!" -Alta
Is this you?
You have cuts and cracks in your fingers from frequent hand-washing or from the hard work that you do every day.
You enjoy walking barefoot, except for the constant splits in your heels that make it painful.
You or a family member suffer from mild skin conditions.
You can't handle most fragrances or scents.
You are allergy-prone. 
You're tired of the endless bandages. Emollients. Cotton gloves.  The "so-called" extreme dry skin relief lotions.  They're either annoying to re-apply constantly, they feel greasy, or they get in the way of your work. You don't have time to waste on promising products that just don't work long-term.
You're not alone!
If only ONE of the above describes your skin issues, then BEESILK is for you. If two or more, then you're definitely in the right place!
What's in the Beesilk Lotion Bar that makes it so effective to fix the cuts and splits in your skin?  Our 3 ingredient bar has BEESWAX, which seals in the effective and nourishing coconut oil and shea butter. Beewax makes the bar "hard" but also keeps you from having to re-apply the lotion like you do with liquid lotions. 
The fewer the ingredients, the better for your skin!
How do you use it? Simply rub the bar over your skin, place the bar back into the tin, and rub in until fully absorbed. You'll notice a difference immediately, but you'll especially love that you still feel soft the next morning. 
But it's what's NOT in the lotion bar that makes it work so well: No WATER. Water as an ingredient means you need added preservatives and additives that also tend to irritate the skin. 
Is it for all-body use?  Beesilk Lotion Bars are ideal for hands and feet (especially the cracks in your heels). We have a softer version of Beesilk for more skin mass called Beesilk Jr. Find it here. 
Why is it better than liquid lotion?  No more greasy, highly fragranced lotion necessary. This bar is scent-free, and is also free of preservatives and additives that can irritate the skin. Only 3 ingredients!
Solid at room temperature, the Beesilk hard lotion bar is designed to specifically protect and smooth over dry, cracked skin.
We also have refill packs!
Ships within 3-5 business days. 
Ingredients: 76 degree coconut oil, unbleached beeswax, naturally refined shea butter.
Sizes:
Pocket size (.71 oz)
Full Size (2 oz)
Stick (.5 oz)

Find Beesilk Jr here (a slightly softer version for more sensitive skin)
Shipping & Returns

Free shipping on orders over $75.

100% money back guarantee. Contact us if you need a refund.

hello@hardlotion.com
Share
View full details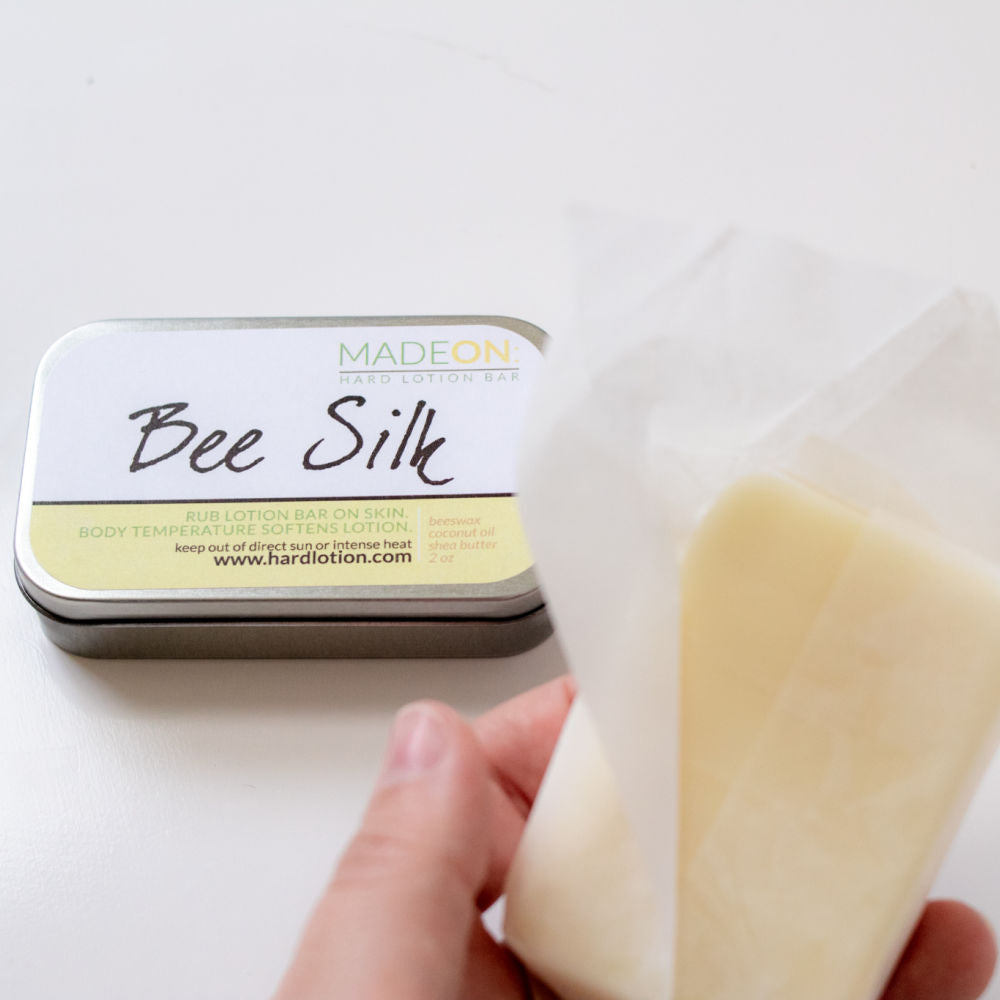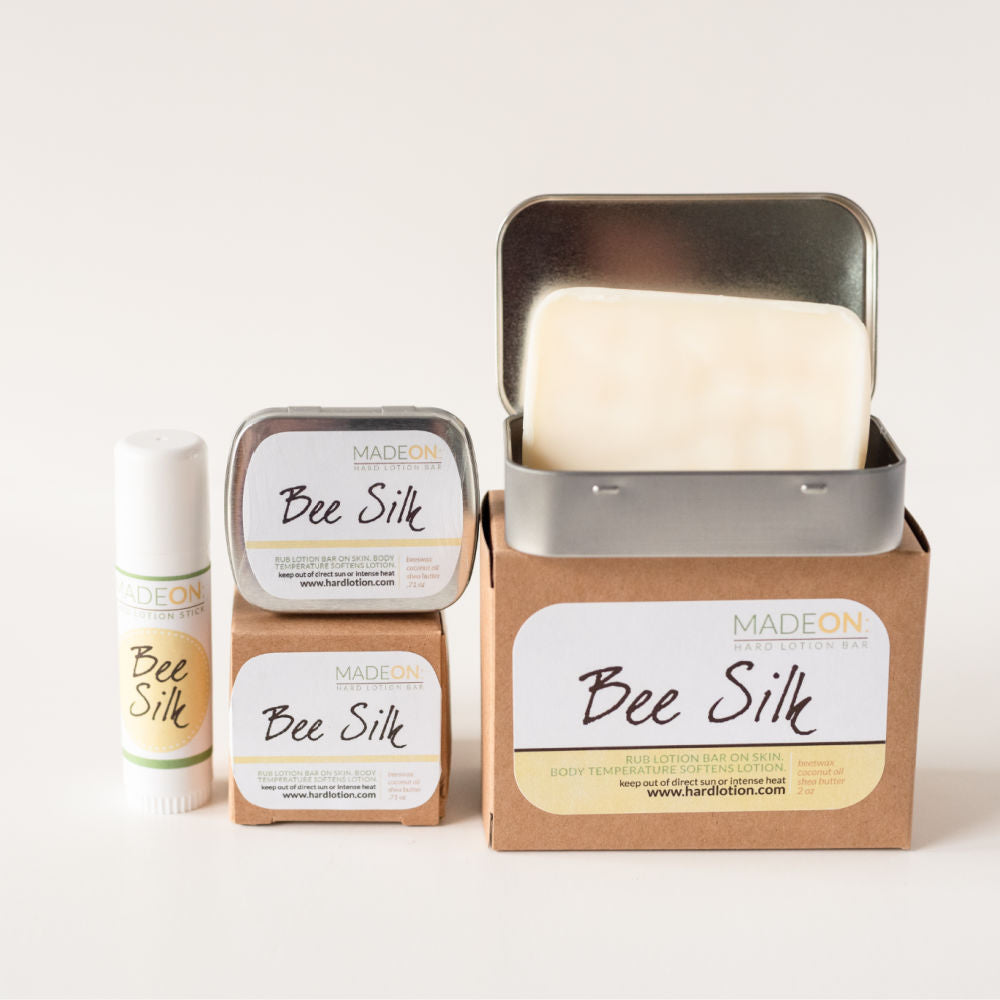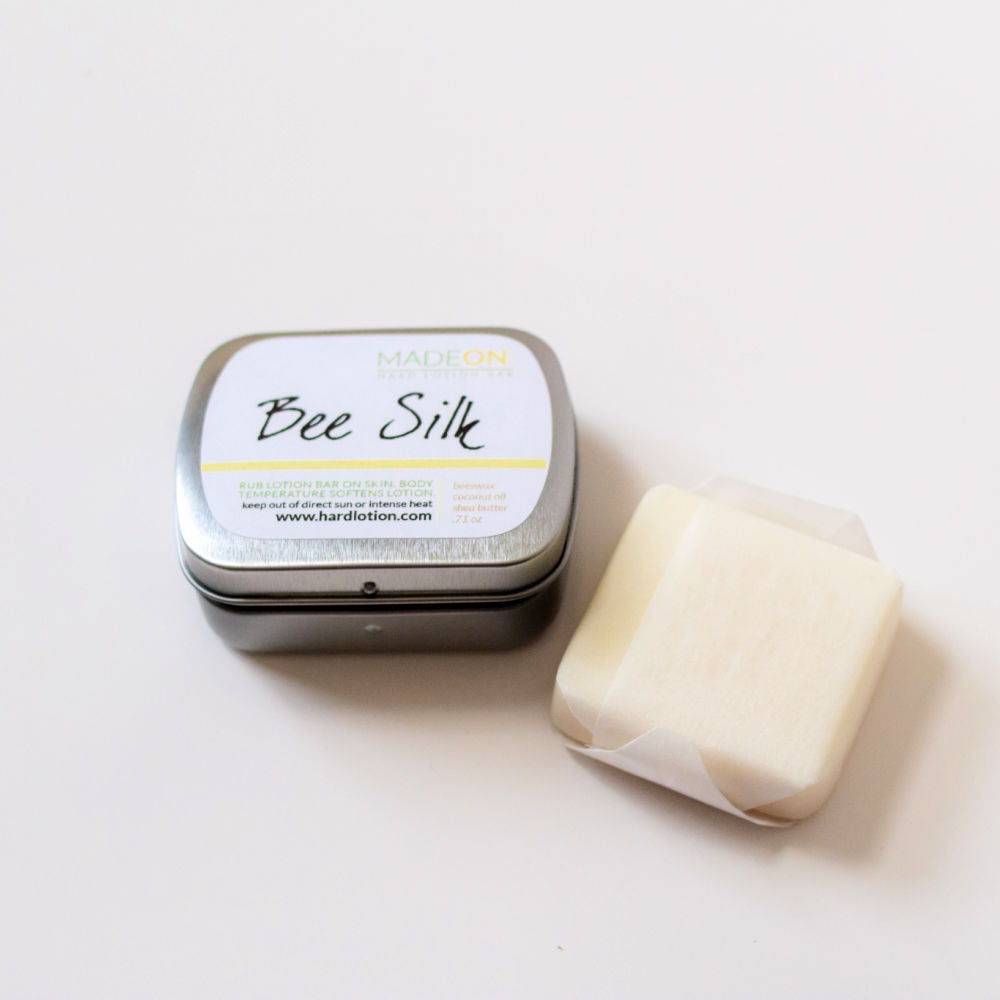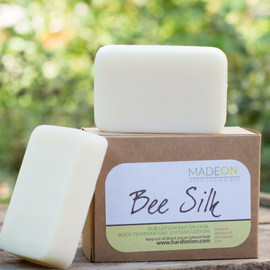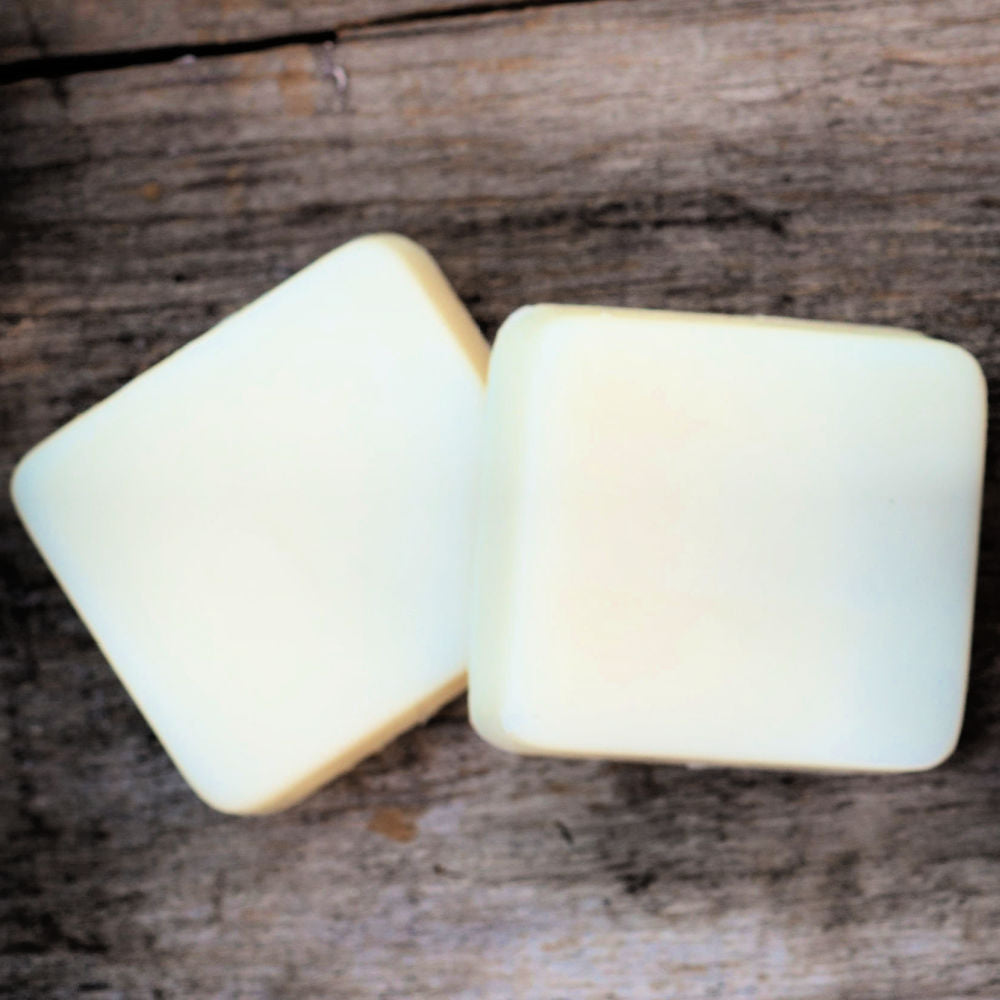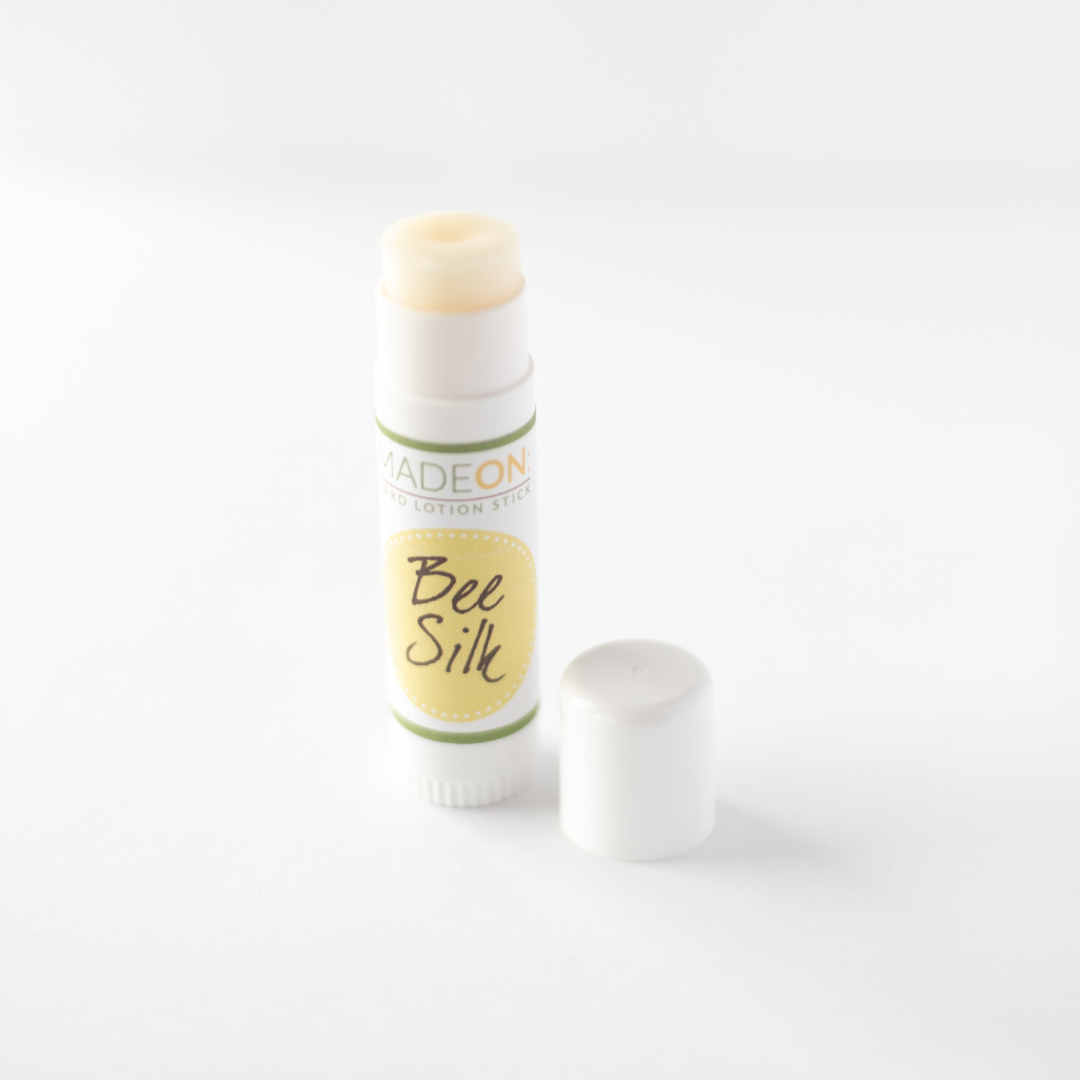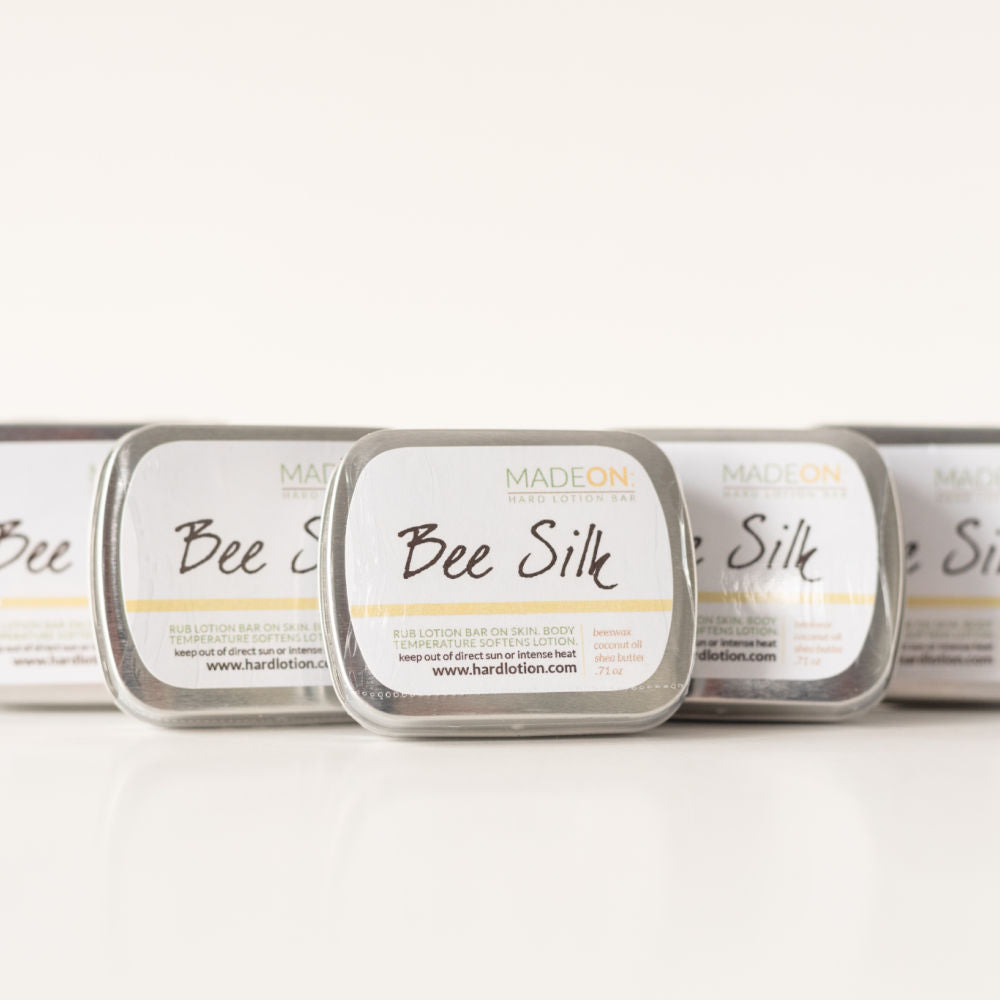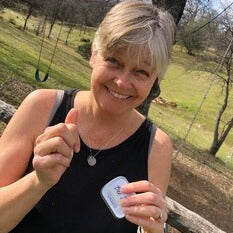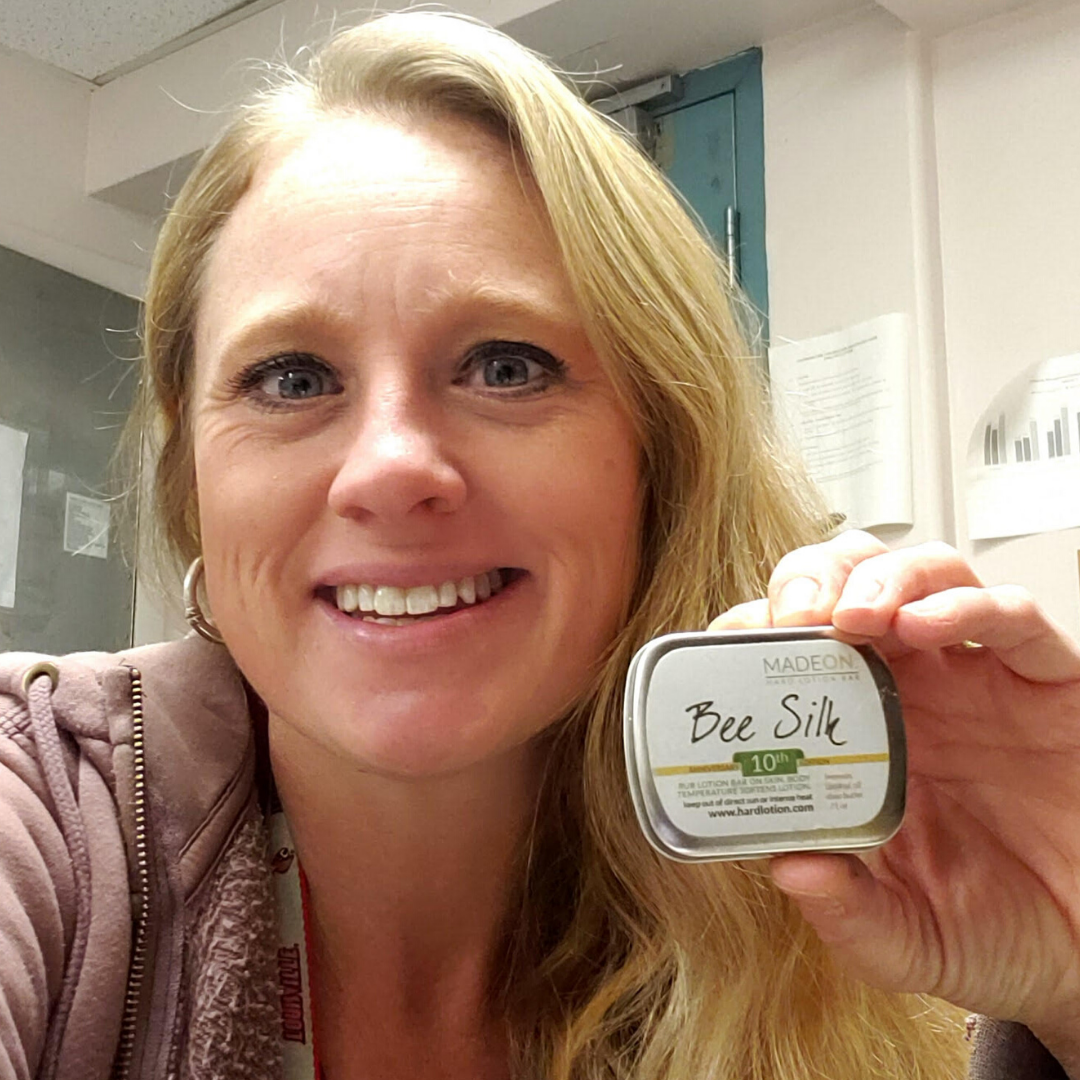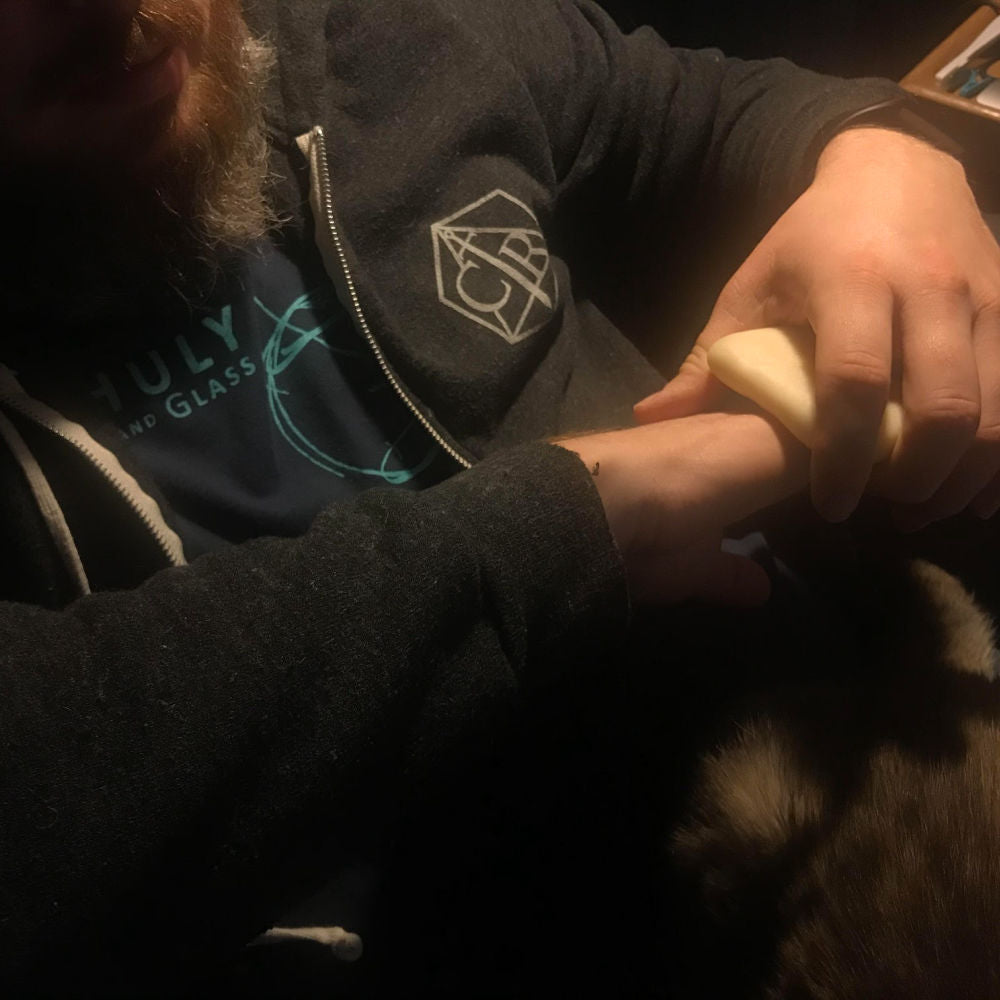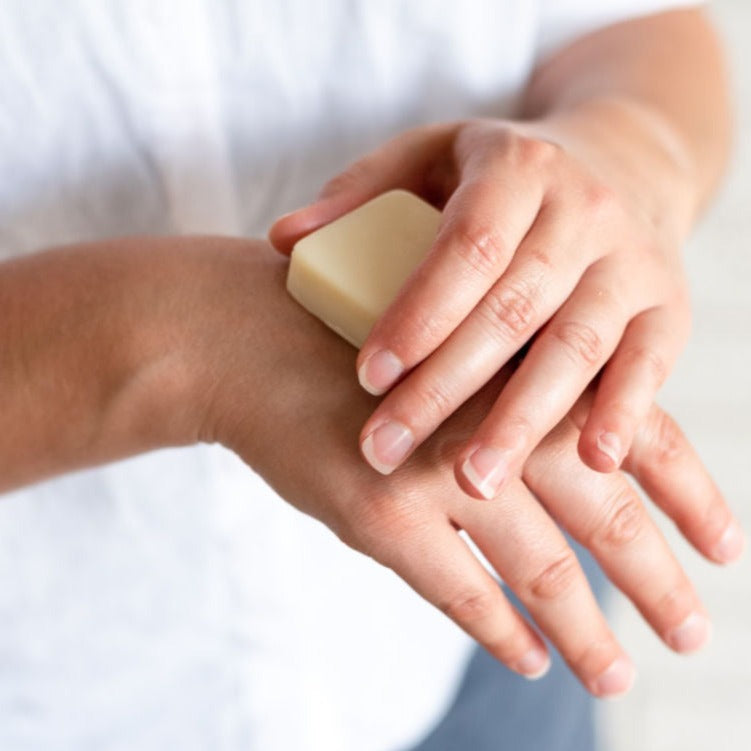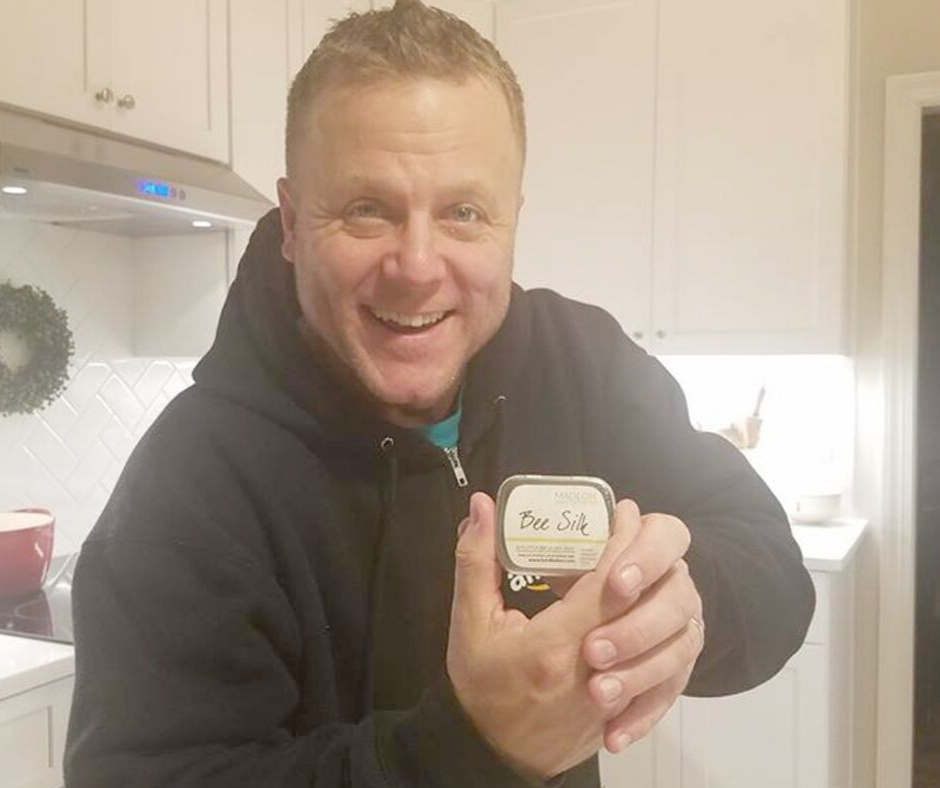 Smooth and creamy ...
And oh so effective. What a gorgeous product this Beesilk Lotion Bar is for my skin, especially when applied to the heels of my feet. I've been using this every morning after my shower for about six weeks now, and I have to say that anywhere I've put it on ~ whether it's my feet, hands or elsewhere ~ my gosh, do I love the results. I'll be using this forever now, Thank you so much!
Love this lotion!
It's great to have a lotion that won't melt in the summer heat. Love this lotion!
Bee silk lotion
I really like it. I had a skin rash on my back and couldn't find anything that would heal it. When I got the lotion bar I used it after my shower. The rash was gone the morning. I use it all over my body now after my shower.
Very nice product
My favorite thing about this product is that it lasts on my hands much longer than lotion, even through the day as I wash my hands. I bought it for my husband to use on his arms because he has terrible skin with eczema but sadly he would not even try it.
Thank you bee's
My son works alot outside and his hands have chaped and cracked from his job , so he tried the beesilk bar and loves it he said it's like grout for his skin lol.
Great Product!
I really like the lotion bar. I have really sensitive skin and don't have any issues. Having it in a solid form is great.