"Simply soothing does exactly what the name says. I recently lost my husband and needless to say, I have shed many tears, and blown my nose more times than I can count. I remembered someone saying this could work wonders and gave it a try. It was AMAZING!!! My sore nose was fine instantly on application. I had given Simply Soothing to new moms, but now I also recommend it to allergy sufferers. Thanks for another wonderful product!" -Valerie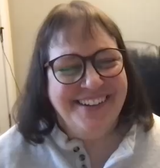 Simply Soothing Rash Cream
What's in Simply Soothing that makes it so effective for rash and other skin issues? It's the zinc oxide! Zinc oxide makes up a good portion of our recipe and you'll find the same effective ingredient in rash cream brands like Desitin... except ours doesn't smell "fishy". 
Choose from a family size or pocket-size tin, or a stick.
Ingredients: 76 degree coconut oil, unbleached beeswax, & non-nano, uncoated zinc oxide

★ ★ ★ ★ ★ 
Great for itchy skin
I started using this in place of steroid cream & am so glad I found it! Highly recommend for itchy skin! Love all of the products I've tried and this one is no exception.
-Sheila
★ ★ ★ ★ ★ 
Love this product!!
This is my second order of Rash Cream. This is a wonderful product. I put it on anything I consider a rash. It works on mosquito bites too.... patches of dry skin. I use it when I get a pimple. Everything is corrected the next morning. I love it!!!
-Amy
★ ★ ★ ★ ★ 
Attended a wedding with clear skin 
I had rough red (sandpaper-like) rashes on my nose. I just tried the Simply Sooothing stick and it took care of the red rough spots in time for attending my son's wedding.
-Kathy
★ ★ ★ ★ ★ 
Great Customer Service!
"This product has been great for my sensitive skin so far! My husband uses it for random rashes he gets and likes it as well!"

-Erin