Regular price
$99.00 USD
Sale price
$79.00 USD
Unit price
per
Sale
Sold out
⭐⭐⭐⭐⭐ "We've been using the lotion bars for a few weeks now and are loving them. They spread easily in warm hands, and the scent is very natural and pleasant."
Our flagship product comes in many forms, each with its own skin-saving benefit. 
Beesilk family size lotion bar in tin 
Beesilk family size refill pack (2 bars, no tin)
Beesilk pocket size lotion bar in tin 
Beesilk Jr. family size 
Beesilk Stick
Natural Lip Balm 
Ingredients: 76 degree coconut oil, unbleached beeswax, naturally refined shea butter.
Beesilk Hard Lotion Bar: When it comes to dry, cracked skin and fingers and heels that split and crack from hard work, the Beesilk hard lotion bar is your easy, long-lasting fix. No more greasy and smelly lotion necessary. This bar is scent-free, and is also free of preservatives and additives that can irritate the skin. Only 3 ingredients!
Solid at room temperature, the Beesilk hard lotion bar is designed to specifically protect and smooth over dry, cracked skin.
Beesilk Lotion Stick: Use as a spot treatment for mild skin conditions or extra dry skin
Beesilk Junior: When dealing with skin irritations on extra sensitive skin, Beesilk Junior is our recommended choice. Packed with shea butter, Beesilk Junior is the product of choice for delicate skin that doesn't need the intensity of hardness and protection that the Beesilk hard lotion bar provides (i.e., babies, young children, or those dealing with extreme skin issues). Beesilk Jr feels more like a lanolin, but with easy application. 
What's the difference? View it here: https://www.youtube.com/watch?v=2TiE-bwxCO0
Natural Lip Balm: Long-lasting, with lip-nourishing ingredients (beeswax, coconut oil, shea butter)
Shipping & Returns

Free shipping on orders over $75.

100% money back guarantee. Contact us if you need a refund.

hello@hardlotion.com
Share
View full details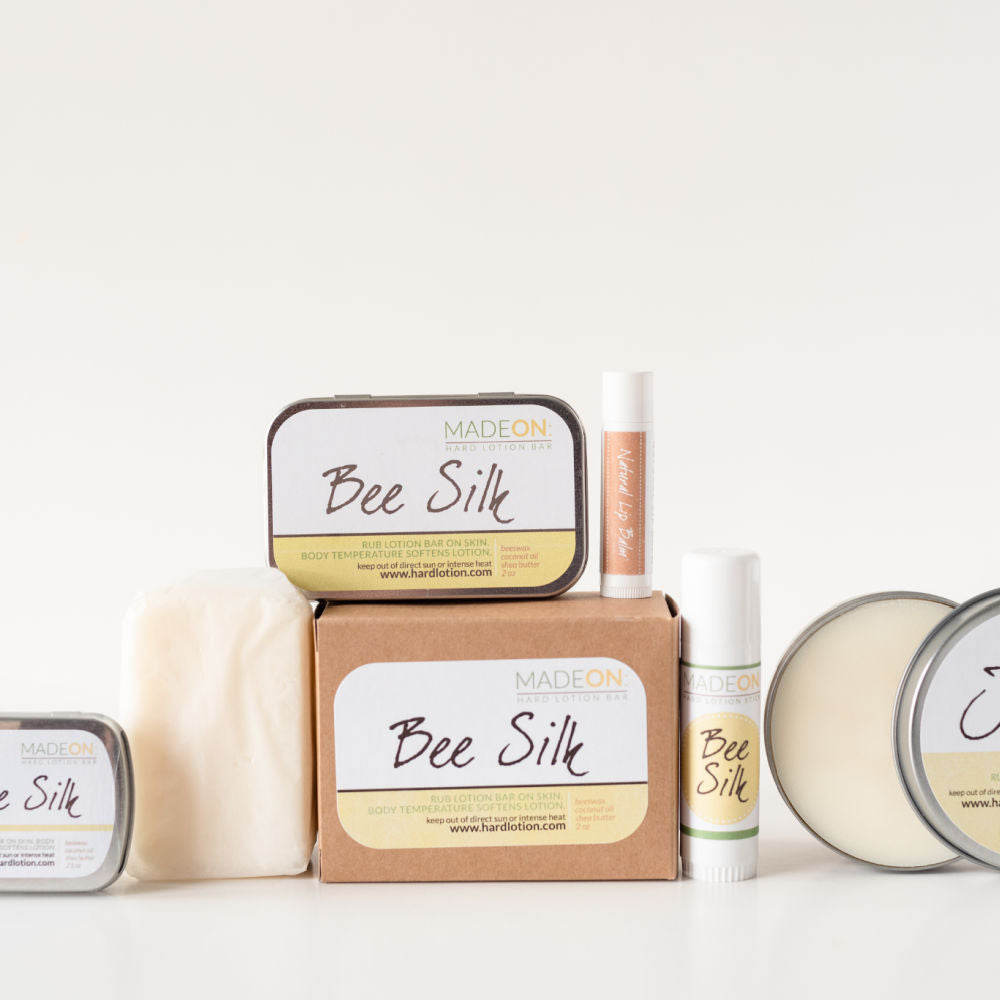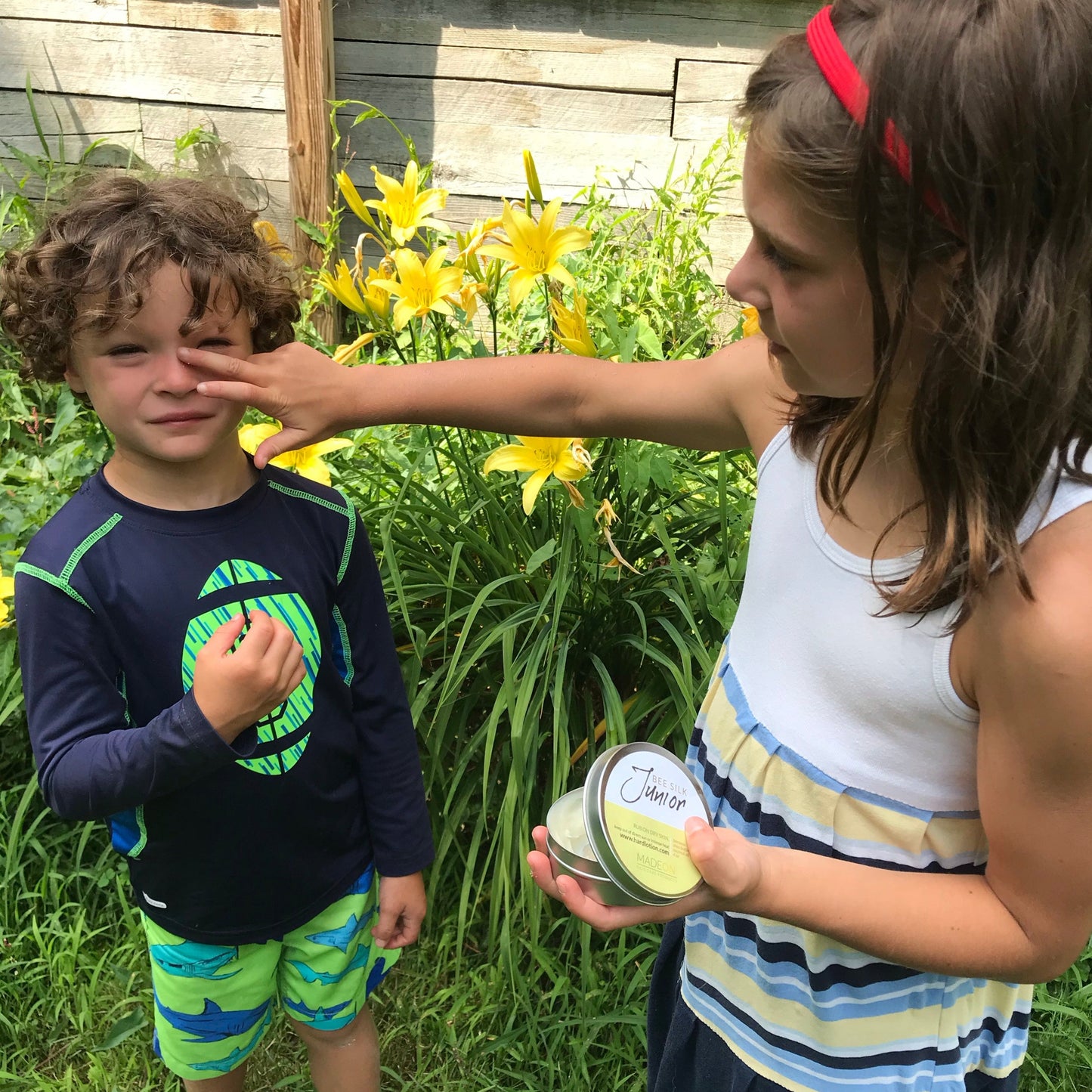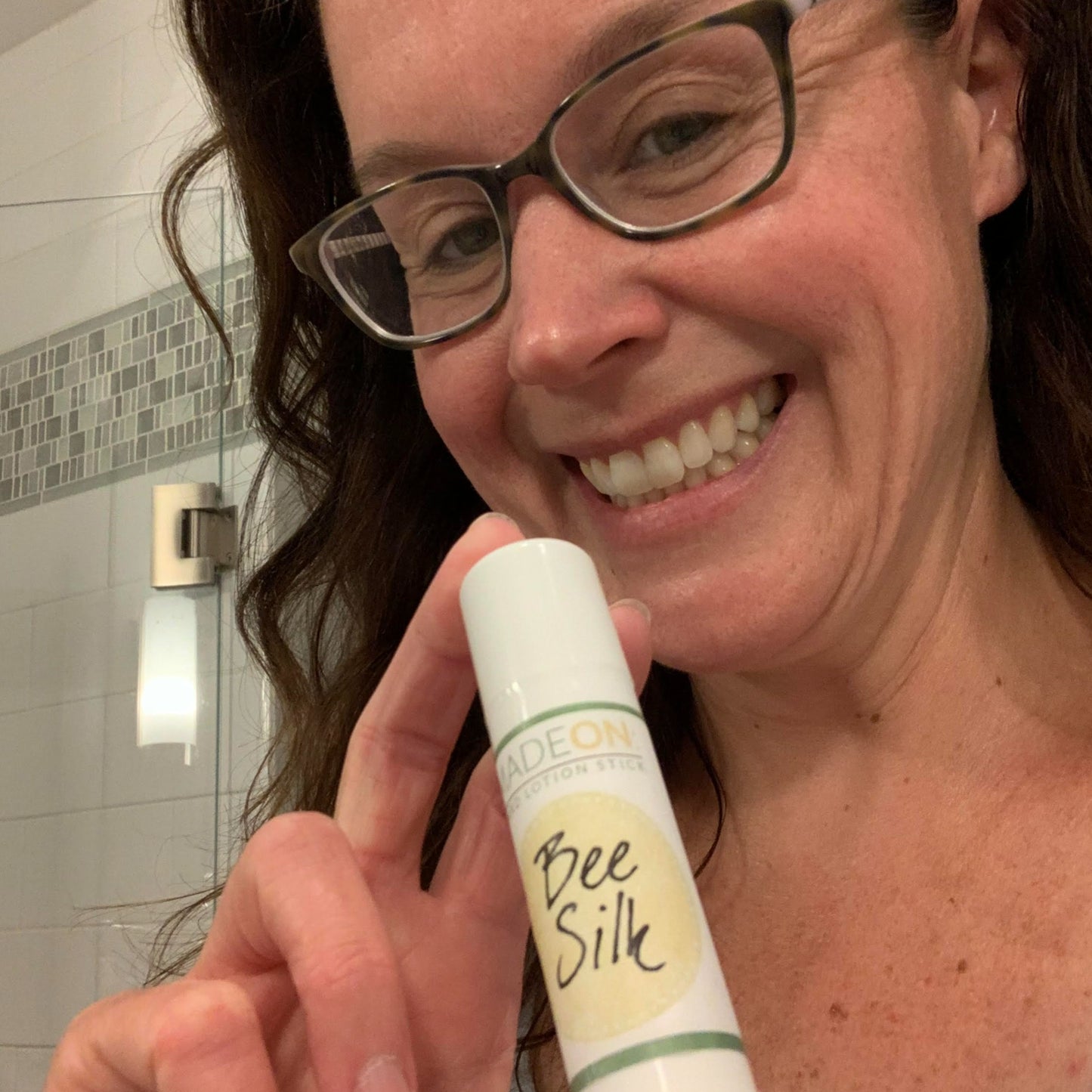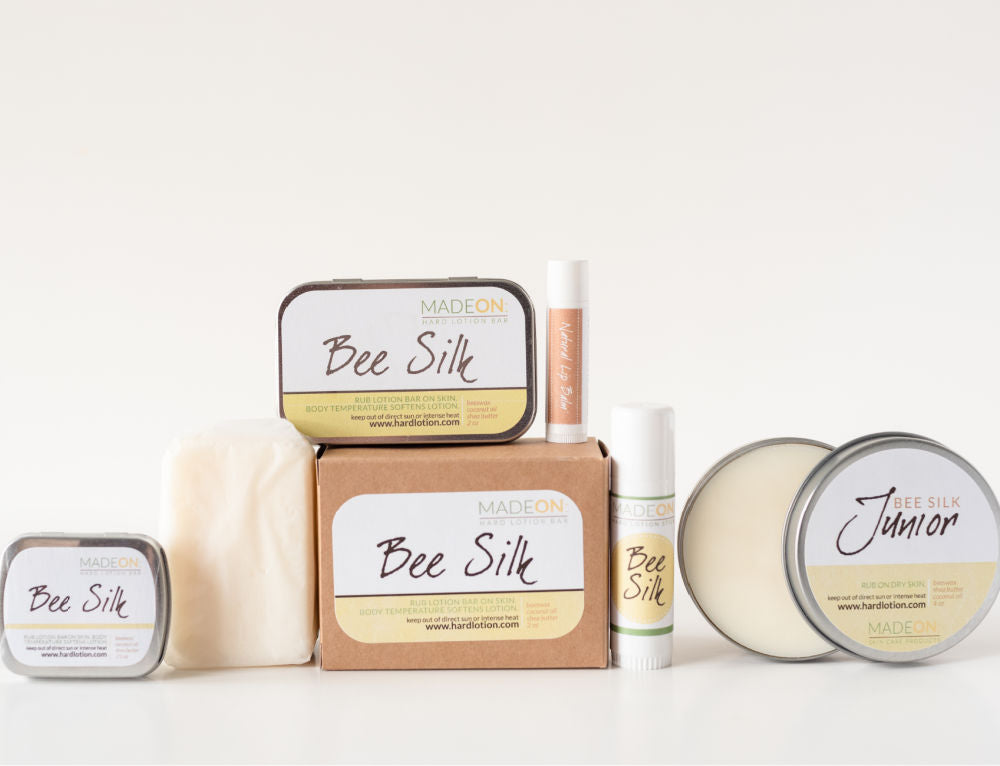 Variety Package
My favorite products for year round use! Love the Beesilk Jr for arms and legs and the Beesilk on hands.
LOVE this product
Have always had trouble with my hands and feet cracking and have finally found something that TRULY does work. Thanks for your outstanding product.
Amazing lotion for dry skin!!
The beesilk is perfect for when my hands get over dry in the wintertime and then keeps them moisturized so they dont get bad again. The beesilk jr is great for my kids and the sensitive skin on inner arms and legs, the lip balm works well.
Wonderful, useful assortment of products!
We've been using the lotion bars for a few weeks now and are loving them. They spread easily in warm hands, and the scent is very natural and pleasant. I love that my kids can apply the Beesilk Jr by themselves after bathing. We live in the southwest desert and our skin is always dry in this arid climate. Applying the hard lotion a few times throughout the day to hands and after bathing has left our skin nicely moisturized. We are a family of 5 and there are enough products in this package to last us all a long time. I'm also excited that they will remain solid even in the warmer temperatures, unlike many lotions that contain coconut oil. Very pleased with our purchase!
Returning customer
I'm in Canada so need to pay the exchange rate and brokerage fees. This is prohibitive in general, but Renee's products are the ONLY thing I've found to help my daughter who suffers from extremely dry skin on her hands. This variety package offers enough products for our family and they absolutely work. My daughter loves that it's not wet or slimy and she doesn't have to reapply after every single hand-washing.
Returning customer!
I have been using these products for years. In the last couple of years I ran out of my stock and did not reorder. That was a mistake! Nothing else has worked as well as this lotion. So glad to have it on hand again!
Great variety
I bought this package for my daughter and myself so she could have some to use with her young boys and of course so I could have some too.
The boys liked the new "lotion" bar. Their hands were so dry and cracked. One of my grandsons asked if they could put more on the next day after he saw how great it worked on his hands.
Nourishing for Alligator Feet
Hard lotion was easier to apply than I thought it would it be. I have gone through one bar already. Using it daily and on my feet. I have tried and true alligator feet that crack and cut anyone that touches them. I'm 3 weeks in with using this product daily and it is working. In the beginning, I have to apply twice a day and now that I'm consistent, I only have to apply once a day. I apply right after the shower and then put socks on while it's absorbing. It nourished my feet and lasts all day. I was expecting to see dry and ashy feet after a day's work but nope. It's still on there and smooth. The slippery feel that others mention is temporary and absorbs in the skin. But, it doesn't look dry. By default, it helped with my hands as well. Nice protective coating against the cold weather. This variety package was a cool way to sample the products. I also like the lip balm. Again, strong protective coating against the cold weather. I will buy these again simply because the product lasts on my feet and it's not really scented which allows me to layer on other things.
Silky Smooth
What a unique product line! Luxurious, silky application without residue. Unlike any products I've used before