Regular price
$95.00 USD
Sale price
$83.00 USD
Unit price
per
Sale
Sold out
'Tis the Season! Gifts for everyone on your list. 
5 Beesilk Pocket Size Bars
5 Natural Lip Balms
comes with gift bags & tags
10 Gifts (or 5 packs) to keep on hand this Christmas...
Whether you can easily identify 5 people who NEED skin relief, or you want to go into this season with extra gifts on hand just in case, we've got you covered! 
What's included:
5 BeeSilk Pocket size lotion bars: Nourish his or her dry skin naturally, with Beesilk. Even the roughest hands, with the most intense splits, will get immediate relief on contact. 
5 Natural Lip Balms: Everybody gains with lip balm. Keep your gift box stocked with plenty for stocking stuffers, or to pass out to company when they come to visit.
5 Gift Bags:
 No wrapping necessary!
5 Instruction Gift Tags: It's a gift tag AND a how-to.
INGREDIENTS

Beesilk Lotion Bar Ingredients: beeswax, 76 degree coconut oil, naturally refined shea butter
Natural Lip Balm: beeswax, 76 degree coconut oil, naturally refined shea butter
Shipping & Returns

Free shipping on orders over $75.

100% money back guarantee. Contact us if you need a refund.

hello@hardlotion.com
Share
View full details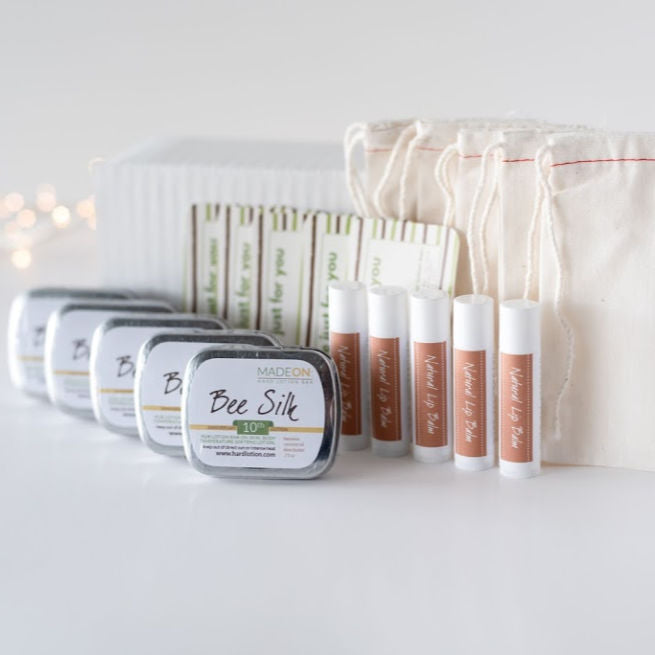 I am additcted to this hard lotion and lip balm!
I have several lip balms and hard lotion tins throughout my home. I also have them in my handbag, car and when I travel. I love that they are made from quality, simple ingredients and they WORK! I bought the gift set of 5 to take with me to Australia as gifts for family/friends. Highly recommended! I've been using these products for several years and will continue to.
Great gifts
I bought the 5 pack for birthday gifts and stocking stuffers. They are perfect. I have been using the lotion bar on my children's dry skin and it's working wonders!
Sinks right in
This 5 pack was a perfect gift for my bible study ladies. It makes me feel good giving natural handmade products. This stuff sinks in and really moisturizes not staying on top of the skin but really sinking in. This will be my new skin care line.
Perfect Gift set!
I just got the Black Friday deal for a 5-pack of Bee Silk & natural balm in a bag, and I'm so excited about being able to give them as gifts - it was an amazing deal, which enables me to use it for a "favorite things" gift exchange that was limited to a specific price range - it's perfect!! I use my lip balm day and night, and Bee Silk on my hands most nights (especially in dry Colorado winters!). Love that it's all stuff I can feel free to use on my little ones, too!
Long Time Customer!!
I feel like I was one of the first to fall in love with MadeOn hard lotion!! I've loved sharing it with others; and these gift packs are a fantastic way to have a thoughtful, practical gift to anyone from the homeless person at an intersection to the hostess of the dinner party!!
I'm a fan for life!!
Gift tub, stocked!
I love having gifts in a tub in my basement always ready to go... And I get a little panicky when I run out of pocket bars and lip balms! These have been my go-to gift for a decade and everyone raves about them. I've even converted people to new customers! Tip: to refill your own pocket bar tin more economically, buy a big bar and simply slice off the end.
So excited
I'm so excited to have this stash of lotions and lip balms just in time for gift-giving! I use these all the time and know how great they are, which is what also makes them great gifts. This has been such a challenging year for teachers and I think these will make a great present to pair with a (useful but not as personal) gift card for coffee or something. Love having these ready in my gift-giving stash!
Essential for anytime of the year!
I am addicted to these two products! I have tubes of lip balm in a drawer near anywhere I spend time in our house, including a kitchen drawer, and the BeeSilk is wonderful for anytime ones hands get rough and/or dry from work or any other activity that gives one dry, rough hands.