Regular price
$0.00 USD
Sale price
$20.00 USD
Unit price
per
Sale
Sold out
⭐⭐⭐⭐⭐ "I used to use facial cleanser, toner, and a TON of moisturizing cream, but ever since switching to Simply Shea I've noticed that I only need a very little bit and my skin is glowing." -Jen
Why is shea butter so good for your face? When your face feels "tight" from dryness or your skin begins to thin, it's time for daily shea butter treatment. Simply Shea Facial Emollient is a perfect emollient for your dry facial skin.
Listen to our Simply Shea Product Story:
What's in it? Our shea butter is an ingredient that our DIY customers were already starting to use directly on the face with nourishing results, and we were asked to package it in an easy-to-use container.  We've added rosehip seed oil, known for its light, skin-protective properties... it's an oil that's used often in face and hair products.
Note: ** We are changing the size of our Simply Shea. 
Why? If you're like me, one 2 oz container will last you MONTHS. We like to keep things fresh around here. We surveyed customers and found that in this case, smaller is better. 
For best results, apply to your face lightly at night before bedtime.
 Features
Fix dry or combination skin with a night facial emollient.
Can be used everywhere on the body
Ingredients
Naturally refined shea butter
Rose hip seed oil
Size 
Shipping & Returns

Free shipping on orders over $75.

100% money back guarantee. Contact us if you need a refund.

hello@hardlotion.com
Share
View full details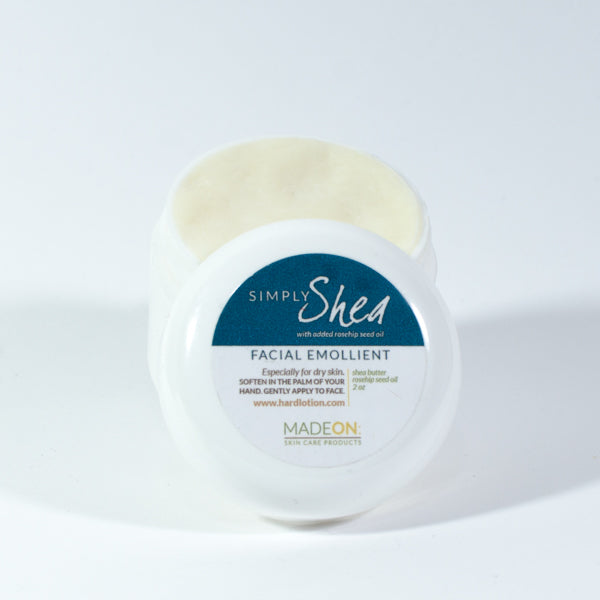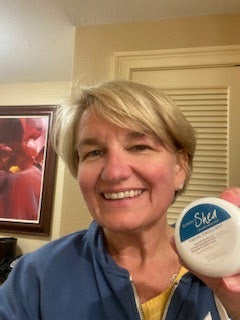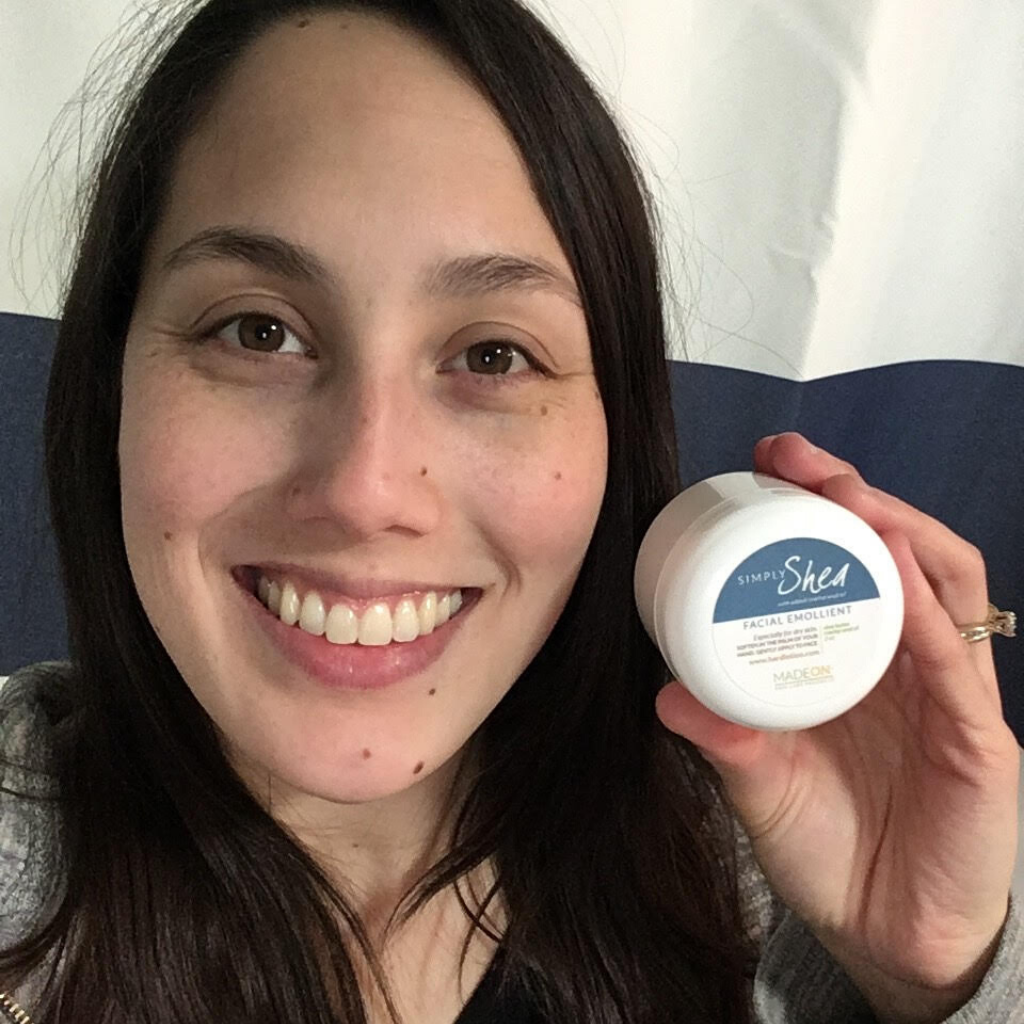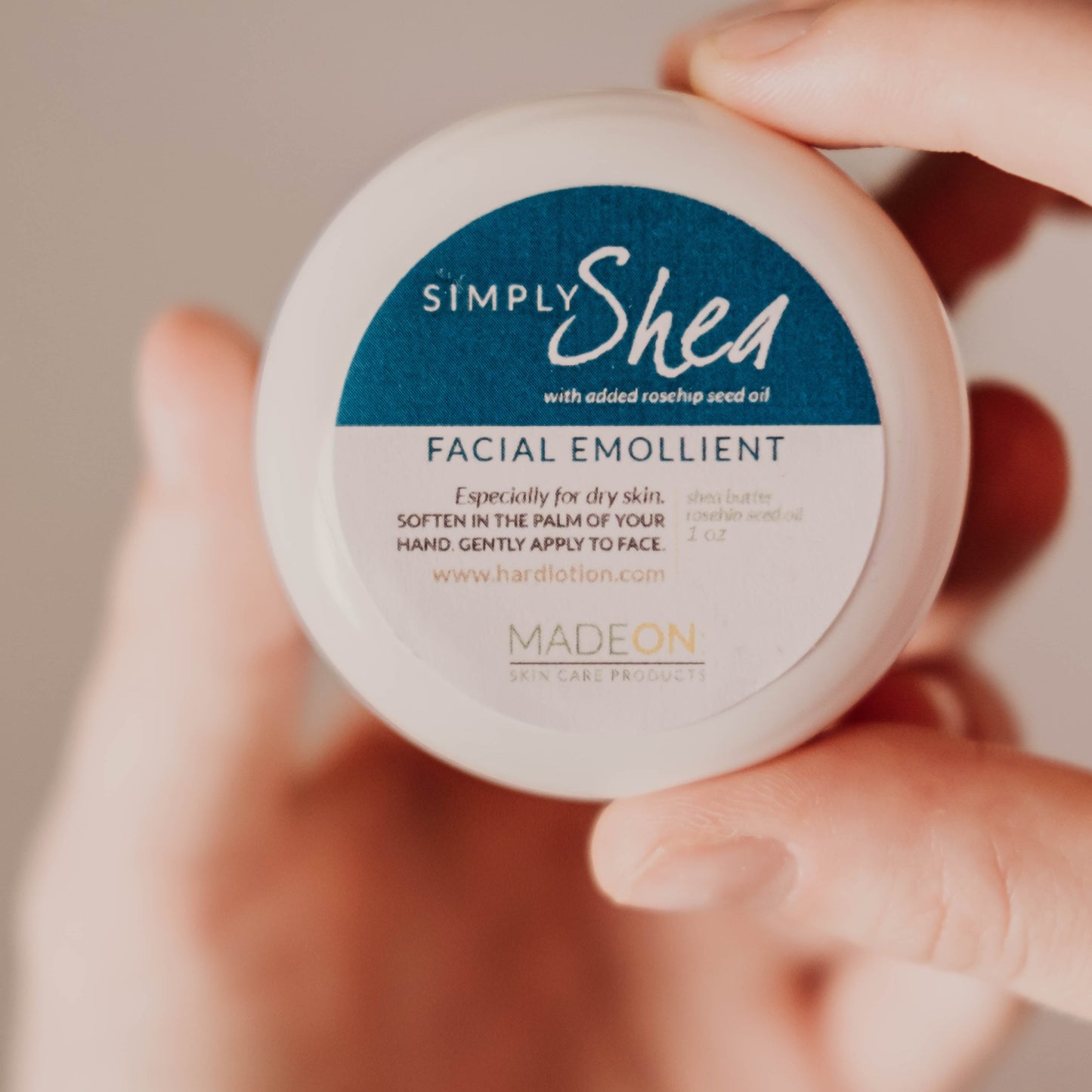 Simply Shea Facial Emollient
I was hesitant to try this on my face worrying about break out. But to my pleasant surprise this stuff is great! I don't break out even during the summer. It just leaves my skin feeling soft and a little goes a long way. I'm looking forward to using this emollient in the winter when my skin is really dry. Love it!
Lovely!
I like to use this before bed and when I start my day. A little goes a long way, it goes on smoothly and my face is reacting quite well to it. Thank you for a simple, healthy & effective product!
Simply Shea = AWESOME
This is an amazing product- A little goes a long way- Using it primarily @ night, under my eyes, on my neck & chest & then rubbing the rest into my hands & dry elbows- Not at all greasy & absorbs really quickly leaving my skin feeling luxuriously silky! I have super sensitive skin prone to allergic reactions & break outs- This is gentle & has been 100% amazing from the first application- Highly recommend to anyone looking for simple, clean ingredients & superior results! Thanks again, MadeOn, another product added to my beauty routine from a Family Owned/Run, US Company that I LOVE doing business with!
Just wondering.
Hi,
1st let me say I really like the products I've bought from Made On., however I do have 1 question about the last jar I purchased of the Simply Shea Facial Emollient. Have you changed your recipe ? My 1st jar melted fast when put on my fingers, was a yellow color and was a bit more oily. Now this last one was harder and almost white in color and takes longer to melt. It feels nice going on and all but I guess I'm just wondering what's up with such a difference in texture and color and melt factor. Thank You, Shawn
The recipe hasn't changed but occasionally the weather can cause a product to be slightly harder (in cooler weather) or softer (in warmer weather). One other factor can be the supplier's ingredients. We do watch this closely but because these are fresh ingredients, there may occasionally be a difference from one bucket of ingredient to another (that's rare, however).
We definitely want our customers to be 100% satisfied so I'm sending over a gift card for you to use on Simply Shea in warmer weather, or on any other product you'd like to use.
Terrific!
I use a pea sized amount and warm between my palms to soften. Rub my hands together then press my hands around my face. Works beautifully and my skin is comfortable all day.
So Good!
The Shea Butter is super smooth and moisturizing and you can use it on any part of your body. I've given away numerous containers and everyone loves it!
Soft and moisturized
My face feels so soft and balanced. It took some getting used to on how to use the emollient, but I've found my routine. I love how my face feels! Even in the morning, my skin is still well balanced which I've never encountered. Love love love!!
Intensively moisturizing
This might be my new favorite product! I've found it to be even more moisturizing than tallow balm. I use it at night and even with a thin layer I am still baby soft by morning. I have very sensitive skin and break out very easily but have had no issues.
Simple
Simple ingredients that makes my skin not feel tight but soft