How to Prepare Your Skin for Spring
As the weather gets warmer and the days get longer, it's time to think about spring cleaning not just for your home, but also for your skin.
6 Spring Care Tips for Glowing Skin
Exfoliate: Winter weather can leave your skin dry and flaky. Start your spring skincare routine by exfoliating to remove dead skin cells and reveal smoother, brighter skin. Try our gentle Raw Silk Noil Washcloth for this.

Moisturize: Just because the weather is warming up doesn't mean you should skimp on moisturizer. Spring air can still be dry, and exposure to sun and wind can cause moisture loss. Lock it in with our Simply Shea Facial Emollient.

Get Out In the Sun: Don't be too quick to apply makeup with sunscreen. You're better off getting sun exposure for at least 30 minutes without sunscreen (or less if you are fair skinned). I'm reading that even exposing your eyes to the sun - without looking directly into it - is a good idea. So don't put on the sunglasses too soon.

Hydrate: Drinking plenty of water is essential for healthy skin. Aim for at least 8 glasses a day to keep your skin looking plump and radiant.

Get Enough Sleep: Make sure you're getting enough sleep. Lack of sleep can lead to dull, tired-looking skin.

 Allergy-triggers: for unexplained eczema or rash issues, be aware of the spring activities that might cause them.
Allergy Triggers in Spring:
Gardening/landscaping (be aware of any plants with urushiol, which can cause a severe rash).

Sweat-inducing exercise can cause heat rash (wear light, cotton clothing and apply Simply Soothing as soon as the rash appears).

Pedicures make your feet look beautiful for sandal weather but be careful of infections, and be aware of the products that the nail technician uses to clean your feet as they can be drying to the skin.

Spring cleaning your home exposes your skin to harsh cleansers and latex gloves, both which can irritate the skin.

Switching to a "spring fragrance laundry detergent" is tempting because you want the fresh scent clean laundry, but don't let these chemical fragrance names lure you - it may wreck havoc on your skin.
More Help for Skin Conditions: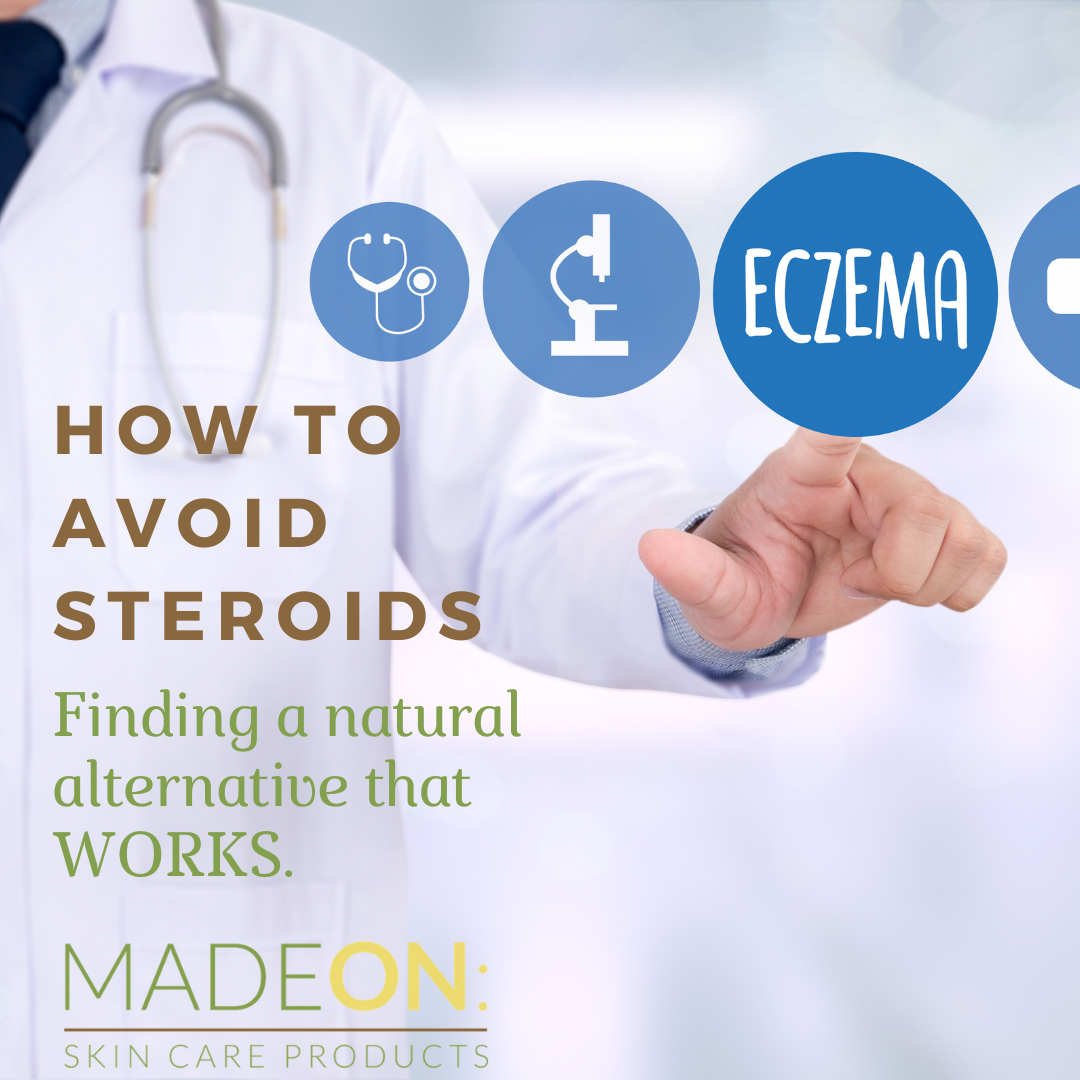 It's unsettling to have a 20 minute consultation with a doctor to then be handed a prescription for a topical steroid cream.
Will this fix the problem permanently?

Does this mean I won't suffer from side effects?

Does this tell me why I have eczema in the first place?
No, No and No.
Read this blog post first before heading to the doc for your unexplained skin condition: https://store.hardlotion.com/blogs/expert-talks/eczema-treatment-the-natural-way
Simply Soothing Rash Cream Testimonial
Jane W:
This rash cream is wonderful!!!! It works on all of my family's skin rashes, irritations, itches - we use it for everything. And it works!!
Absolutely Surprised and Thrilled! Simply Soothing Rash Cream!
I am a senior citizen, a grandma, and I've had 5 children via C-sections. I am round in shape and thus I have overlapping skin folds, which get worse as I age. The skin underneath the overlapping skin has been red, irritated and very sore, like a severe sunburn. I have even had yeast in these skin folds. I had been using an antifungal powder for the past few years trying to address the skin irritation, but I had to apply the powder several times a day and it didn't even fully prevent the irritation and pain.
My dermatologist told me to stop the powder and to use a cream that contained zinc oxide.
I've been using the Simply Soothing Rash Cream for several weeks now and from the first application it has provided relief from the burning, soreness and irritation. Plus I don't need to reapply it during the day, just once works great. I have not had any soreness or irritation in my skin folds since I starting using it. The stick form makes it very easy to apply.
I'm sold! No more powder! I'm using Simply Soothing Rash Cream daily. My dermatologist was very pleased.
Even my snarky TEENS like this!!
I purchased a Simply Soothing stick for myself and immediately loved the feel on my winter skin, especially under my eyes, which is especially sensitive from the dry air. One of my teenage daughters was complaining about dryness and I offered her my stick to try. She is PICKY and completely resistant to any of my 'natural' or 'DIY' style treatments, but she agreed (I suspect it was only so she could tell me it didn't work LOL) Lo, and behold - the next morning she asked if she could borrow the stick for school!!! As soon as she was gone, I ordered a stick for each kid for Valentine's Day (I like to give them something 'loving' <3 )
They all love them!! My oldest (in college) mentioned that it's become her nighttime moisturizer - easy to apply and totally absorbs overnight leaving soft, soothed skin by morning. Thank you for such an awesome product!! I will be ordering another round for all of us!
Sweet Dreams with Simple Soothing Rash Cream
Since the Pandemic and the introduction of harsher and harsher chemicals in the workplace, it can be difficult to ride the wave to balance sanitation with safety. With sanitation compliance, I was experiencing warning signals on my skin with dryness, itchiness, redness and discomfort. At night, I had an especially hard time gearing down to sleep with my hands and forearms itching all the way past my elbows. Since I couldn't sleep, I got up looking through the cabinets to find something to help. That's when I saw a travel-size Simply Soothing Rash Cream that I had bought for First Aid summer misadventures. I applied a generous amount to my hands and arms like evening gloves. It immediately stopped the burning and itching like magic! I slept like a baby. Although Renee originally made it for diaper rash, I'm glad that she took "diaper" off the label! ;D I used it for several consecutive nights to heal the micro-abrasions on my skin due to harsh sanitation chemicals. Ahhhh, Sweet Dreams…
Healing cream
I mainly use on the baby's bottom if an issue arises but my husband uses it for big guy chaffing, nothing else has ever helped like the simply soothing has
My favorite product
This rash cream is wonderful!!!! It works on all of my family's skin rashes, irritations, itches - we use it for everything. And it works!!
My Daughter Asked for It
A couple days ago, my six-year-old came to me complaining of a very itchy mosquito bite on her leg. I decided to try Simply Soothing on it to see if it would help. She didn't mention any itchiness after that. The next day, she pointed out another itchy bug bump on her arm and requested that I put "what I put on [her] leg" on it. The cream seems to be quite effective!
Excellent product!
I love that the ingredient list is so short, and that it's still highly effective, if not more so. It's been used as a diaper ointment and a guard against runny nose rash so far. I love versatile products!
eczema relief
My grandson is plagued with eczema on his legs and arms. Gave him the rash cream and it seems to relieve the itching and also is clearing up some of the patches. Highly recommend.
Simply Soothing Rash Cream
I got this for my new niece! We have been waiting for her! She is a miracle baby. My poor sister had 5 miscarriages before this special little one. I used the simply soothing rash cream on her last weekend and it was amazing. So soft and I love the ingredients. I used this on my own babies. They are 13 and 11 now. Wonderful stuff!