Regular price
$20.00 USD
Sale price
$17.00 USD
Unit price
per
Sale
Sold out
⭐⭐⭐⭐⭐

"With the winter dryness and almost constant hand-washing my hands have suffered, I love the Beesilk lotion bar!" -Alta
What's in the Beesilk Lotion Bar that makes it so effective to fix the cuts and splits in your skin?  Our 3 ingredient bar has BEESWAX, which seals in the effective and nourishing coconut oil and shea butter. Beewax makes the bar "hard" but also keeps you from having to re-apply the lotion like you do with liquid lotions. 
But it's what's NOT in the lotion bar that makes it work so well: No WATER. Water as an ingredient means you need added preservatives and additives that also tend to irritate the skin. 
How do I use it? Simply rub the bar over your skin, place the bar back into the tin, and rub in until fully absorbed. You'll notice a difference immediately, but you'll especially love that you still feel soft the next morning. 
Is it for all-body use?  Beesilk Lotion Bars are ideal for hands and feet (especially the cracks in your heels). We have a softer version of Beesilk for more skin mass called Beesilk Jr. Find it here. 
Why is it better than liquid lotion?  No more greasy, highly fragranced lotion necessary. This bar is scent-free, and is also free of preservatives and additives that can irritate the skin. Only 3 ingredients!
Solid at room temperature, the Beesilk hard lotion bar is designed to specifically protect and smooth over dry, cracked skin.
We also have refill packs!
Ships within 3-5 business days. 
Ingredients: 76 degree coconut oil, unbleached beeswax, naturally refined shea butter.
Other Sizes:
Pocket size (.71 oz) https://store.hardlotion.com/products/beesilk-lotion-bar-pocket-offer
Full Size Refill Box (2 oz) 2 Bars, No Tin
Stick (.5 oz)

Find Beesilk Jr here (a slightly softer version for more sensitive skin)
Shipping & Returns

Free shipping on orders over $75.

100% money back guarantee. Contact us if you need a refund.

hello@hardlotion.com
Share
View full details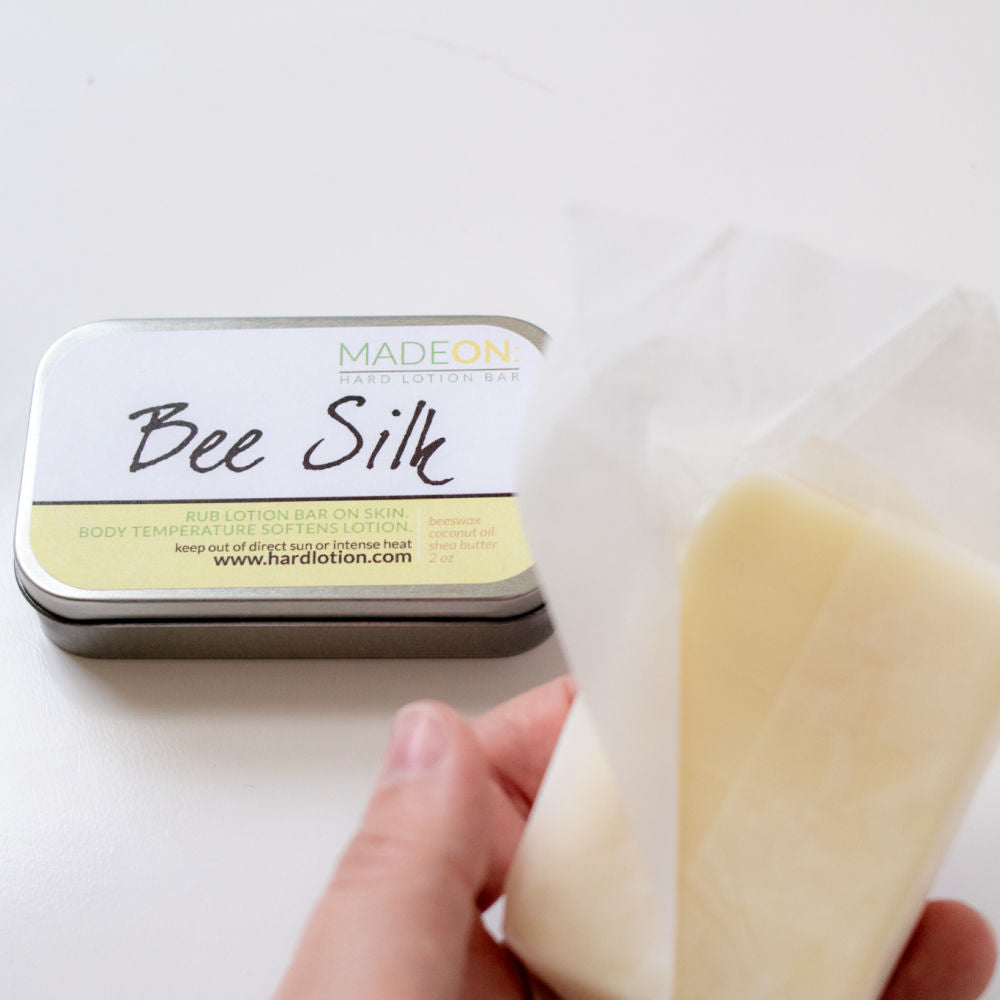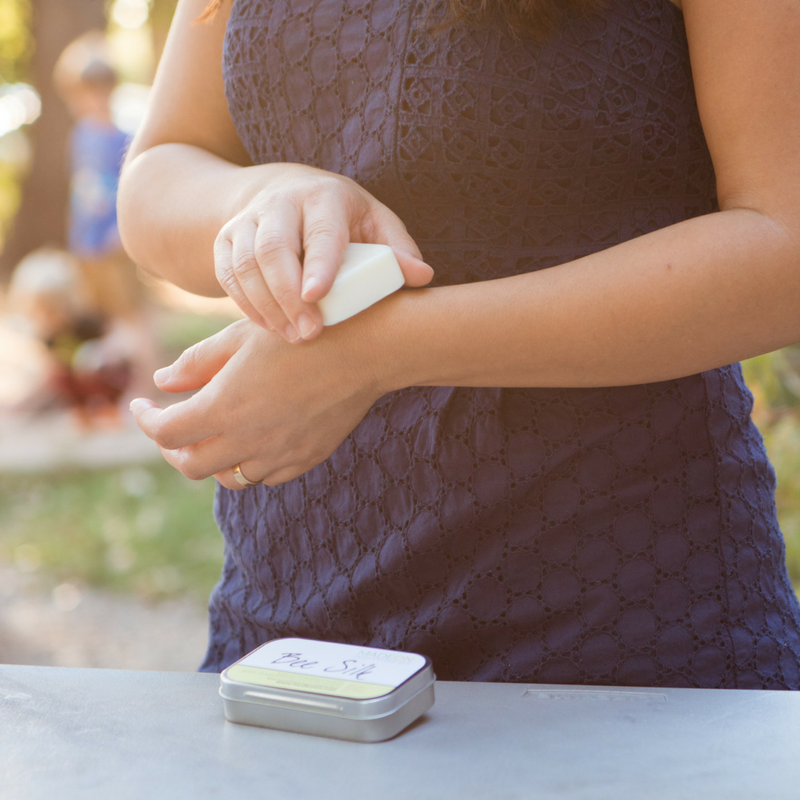 I love this product!
I have been using it for about two weeks. I liked it enough to order several of the travel size to give to friends. My hands are extremely dry as i garden and cook a lot. I have patches of eczema on my fingers that are showing improvement. The thing i really like about using this hard lotion is it doesn't get under my nails, so the dirt is easy to wash off, unlike normal lotions. Thank you for this wonderful product. oh, i've order the lip balm but haven't used it yet.
Bee silk hard lotion
Product is ass described. Definitely works very well
Love it!
I ordered this bar/lotion just because I seem to be super sensitive to all lotions-and I have spent lots of money on all different types of lotions. I just can't quite figure out what it is that makes my hands itch and break out in dry patches. After using this bar for two nights before bed, I noticed that my hands didn't itch any more and my skin was soft and smooth. So now I use it every night and am very happy with it! Thank you!
Beesilk Lotion Bar Full SizeReview
This is a remarkable, satiny without a sheen, skin protection product. It is easy to apply and withstands a couple hand washes too. I like to use it while knitting and crocheting (the tin is so handy close by) and even rub my knitting needles with my fingers to transfer this lotion to the bamboo. I am well pleased and glad I found this company.
Love it
I love everything about this. The smell and moisture it gives my skin.
The only maybe downfall is it think it would melt if I wanted to keep one in my truck or horse trailer
Beesilk
Not a big fan. Will not order again
My wife LOVES this stuff
My wife has extremely dry hands and our Colorado climate doesn't help matters. She has been using this regularly and has noticed a remarkable improvement. She especially likes that she can apply it directly to the cracks in her fingers to keep the moisturizer where it is needed most.
Amazing!
I've had a red, itchy, irritated patch of skin under my arm for more than 12 years and nothing has ever worked to relieve it. After 2 months of daily use of the Beesilk Lotion Bar, it's completely GONE!!
Soft hands & lips
I use bee silk lotion bar full size in tin every night on my hands & lips. I really notice a change in how much softer my hands & lips are than before I started using it.